Germany
'One of the defeats that was the most fun' - Kroos happy with Germany display against France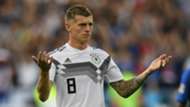 Toni Kroos maintains that Germany's defeat to France in the UEFA Nations League was one of the "most fun" defeats of his career.
Joachim Low's side again slipped to a disappointing loss, with their form following their shock group stage elimination at the World Cup continuing to nosedive.
Their 2-1 loss to France, during which Kroos scored a penalty to put Germany ahead, followed a 3-0 thumping at the hands of the Netherlands.
And their latest reverse has set a record for the country, with the year of 2018 becoming the worst ever in the history of the national team.
But the Real Madrid midfielder insists that he is not disheartened by the latest defeat, as he believes Germany played well at Stade de France.

"Of course, I like to have some options - and it was like this," he told reporters.
"On the pitch, it was one of the defeats that was the most fun because the ball was moving well in our team. 

"After some days when we were bashed a lot we managed to get up again and to show the performance we had hoped for.
"Of course, I am disappointed. Especially when you dictate the game, when a lot of things are working as planned. Right now, there are no presents for us."
Indeed, Kroos believes that the team's performance levels have risen since the World Cup in Russia, where Germany endured humiliating losses to Mexico and South Korea.
"It's a tough phase for most of us because we are used to winning, just as I am. We need to keep on working," he added.
"The players that have come into the team did well. We played better football than at the World Cup."
Germany return to action in November, when they will face Russia in a friendly and the Netherlands in the Nations League.