KPL
Olunga pens emotional parting shot as he joins Hengfeng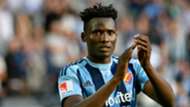 Kenyan striker Michael Olunga has spoken following his move from Allsvenskan side Djurgardens IF to China.
Olunga signed a deal with Chinese Super League newbies Hengfeng Guizhuo Zhicheng FC on Tuesday and he has now expressed his gratitude to his immediate former club Djurgarden for the playtime in 2016 as he takes up new challenge in Asia.
Olunga transfer cash breakdown explained
He cannot forget fans in Sweden and the entire management of the Stockholm based outfit for being part of his success. And as usual, he was also thankful to God for the life and skill.
"I want to thank the whole family of Djurgården. I came here with ambitions, dreams and a goal of making Djurgarden a better team. I have done everything I could to achieve it and I want to thank President Henrik Berggren for giving me the opportunity, sporting director Bosse Andersson for believing in me all the way and even the coaches I've had because they have given me the confidence to represent the team.
"A big thank you also to my teammates who have supported me all the way and put up in all modes. Players from all over the world who have become my friends. I also want to thank all those who might not be seen in my success.
OFFICIAL: Guizhou Zhicheng announce signing of Olunga
"Then I want to thank the fans who have been fantastic. I have been fortunate to play for the teams with the best fans in the country. First in Kenya and then in Sweden and I will miss Djurgården audience. But in football you never know what's next; maybe one day I can return here," he told the club's official website.
The former Gor Mahia ace said this when Djurgarden were officially confirming his move from Sweden to China.