Nigeria v Uganda
'No enthusiasm at all' - Twitter reacts as Nigeria draw Uganda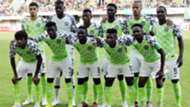 Football fans are not happy with Nigeria's performance in their goalless draw against Uganda in Tuesday's friendly encounter.
After holding South Africa to a 1-1 draw on Sunday to book a spot at 2019 African Cup of Nations, the Super Eagles were held to a stalemate at the Stephen Keshi Stadium, Asaba.
Despite dominating the encounter, Gernot Rohr's men found it difficult to break the Cranes' defence and fans have taken to social media to react.
Waste of time. You play Uganda and can't win? So much for Super Eagles. https://t.co/wQAG2jWAxB

— RIP, TOSYN BUCKNOR! (@lordbaruda1987) November 20, 2018
Super Eagles, you guys just contrived to be unfortunate today. Issorai!

— Busola AAA (@AkinbusolaO) November 20, 2018
How could we allow Uganda do that to us? These "Super Eagles" na trash. No enthusiasm at all until the final minutes. Damn shame.

— Matt J. Mari (@gee_marison) November 20, 2018
@thenff @PinnickAmaju The Super Eagles under Gernot Rohr are like undergraduates tutored by a kindergarten teacher. We deserve better. #NGAUGA

— ♠naijagenie™ (@niftygenius) November 20, 2018
FULL TIME

🇳🇬Nigeria 0️⃣-0️⃣ Uganda 🇺🇬

Stalemate in the encounter between the Eagles and the Cranes. Few positives from the game though. #NGAUGA #SoarSuperEagles

— Soar Super Eagles 🦅 (@SoarSuperEagles) November 20, 2018
#NGAUGA 0-0
It's obvious Super Eagles were served ogbono soup before this game.
Both teams have qualified for the AFCON tho.
It was just a friendly...

— Red Rose 🌹 (@Roseangel009) November 20, 2018
So Super Eagles couldn't beat Ugandan team?

— Érhuvwu O.A (@erhuvwu_) November 20, 2018
That's why I said they're a very strong team and it will be an advantage for them not to concede to the Super Eagles.

— Jesse Obiyo (@obiyo_jesse) November 20, 2018
Uganda holds the super eagles in a goalless draw, it was a tight contest. Keep it up @UgandaCranes

— Herbert Kinalwa (@HerbertKinalwa) November 20, 2018
I like a team who has a game plan and stick to it ! Ugandans did that .

Super eagles atimes appear like a team with individual players only showcasing personal talent and skill

— Temi Oyedepo (@temmy_israel) November 20, 2018
The officiating in this game is questionable. Favourable to the Super Eagles but these Ugandans are unnecessarily hyper and aggressive.

— Papa Bear (@OsazeOBOH) November 20, 2018
Nigeria Super Eagles are better than Uganda Cranes.

🙂
|\👐🏾
/ \_
━━━━━┓ \\
┓┓┓┓┓┃ \\
┓┓┓┓┓┃ ヽ😵ノ
┓┓┓┓┓┃   /
┓┓┓┓┓┃ ノ)
┓┓┓┓┓┃
┓┓┓┓┓┃
┓┓┓┓┓┃
┓┓┓┓┓┃

— E🔸m🔸a🔸r™ 🇺🇬 (@UGnaire) November 20, 2018
The Super Eagles should not play in such a stadium. Shame!

— Seton (@shirt_on_jeans) November 20, 2018
I think John Ogu can be content with being a luxury player for the Super Eagles. He hasn't done anything special to dislodge any of the starters in his position.

Mikel Agu on the other hand has shown promise so far.

Chukwueze is surely the future of Nigeria.

— Oluwatobi Ogunsakin (@tobiogunsakin) November 20, 2018
This super eagles are missing Mikel Obis influence mehnn

— Ore😎 (@Prince_gordon__) November 20, 2018