Ghana
Nketiah relishes Arsenal's Australia experience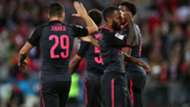 Arsenal youngster Edward Nketiah is delighted by his first team involvement in the club's preseason tour of Australia.
Following an outstanding time in the Gunners youth set-up last season, the England youth striker of Ghanaian descent was rewarded with the opportunity to train with senior stars such as Olivier Giroud, Theo Walcott and new signing Alexandre Lacazette as the new campaign beckons.
And it would forever be a moment to cherish as the 18-year-old made his first team debut in a 2-0 win over Sidney in front of 83000 fans.
"It is great experience, I am loving every second of it, taking everything in and trying to show the boss what I can do," Nketiah told Arsenal Player.
"Hopefully I can get on more trips like this and be more involved in the first team.
"Performing in front of 83,000 fans is probably [more intimidating than doing an initiation song] but then again I think I like it! I enjoy it, it is something different and hopefully it is the first of many.
"I have been happy with my performances here in Australia. 
"I have been playing in positions I am not really used to and I think I have adapted well and brought something different to the game each time I have come on, and that's all I can do really."
Nketiah saw 22 minutes of game time on his debut before going a minute further in the 3-1 triumph over Western Sidney Wanderers.
"I thought I did well when I came on [against Wanderers]," Nketiah said.
"I contributed to the team and brought something different.
"It's just unfortunate, was the second time in two games that I hit the post but it's nice to be in and around it, getting chances and hopefully next time it goes in."
Nketiah then had another substitute appearance in the penalty defeat to Bayern Munich in the International Champions Cup, but watched from the bench as his outfit lost 3-0 to Chelsea on Saturday.