Real Madrid
NIVEA MEN Deep Insights: Sergio Ramos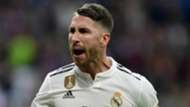 Real Madrid have put their difficult early season form behind them and turned the corner under new manager Santiago Solari. And one of the first people the new boss will thank is Los Blancos' legendary captain Sergio Ramos.
Since Solari took over, the tactician and his club captain have overseen the best start to a new manager's reign since 1957. At the back they've secured three Ramos-inspired clean sheets in a run of three straight wins that has seen Los Blancos score an incredible eleven goals. Of course, Ramos himself has added to that tally with an 88th minute penalty against Valladolid in Solari's first La Liga match in charge.
 Sergio Ramos is one of the Real Madrid stars featured in NIVEA Men TV advert
Typically for one of the most imperious centre-backs in world football, Ramos was one of the few Madridistas who could hold his head up high while the results were going against them. Now that they've turned their season around he is the rock on which Los Blancos solidity is built.
Even the most cursory look at Sergio Ramos' stats this season show he is still operating at the same levels he has shown throughout his 13 trophy-filled years at Real Madrid.
His passing accuracy in twelve La Liga matches is an incredible 93% and he has already scored four goals. And for a man often accused of playing the game to the edge of the rules, he has been fouled 19 times this season, while only giving away eight fouls and receiving a solitary yellow card. 
Sergio Ramos | 2018-19 La Liga stats
It is often forgotten that one of the games' best centre-backs was actually converted from the right-back position by Jose Mourinho during the 2011/12 season. 
It is arguably the most successful positional switch in football history as Ramos has gone on to win two La Liga titles (2011/12 & 2016/17), one Copa del Rey (2013/14), four UEFA Champions Leagues (2013/14, 2015/16, 2016/17 & 2017/18), three UEFA Super Cups (2014, 2016 & 2017) and three FIFA Club World Cups (2014, 2016 & 2017).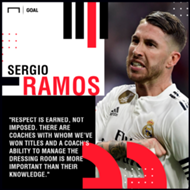 The defender has one of the strongest mental games in world football, regularly inspiring his teammates and demonstrating leadership qualities that have set him apart at the pinnacle of the game.

Despite Real Madrid's difficult start to the season expect Ramos to deliver more of the same as he strives to bring even more silverware to the Santiago Bernabéu trophy cabinet.