Nigeria
Nigeria Women Premier League clubs get registration deadline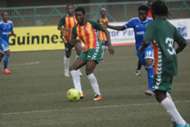 All 17 Nigeria Women Premier League clubs have been given till Friday, March 10 to complete their registrations for the 2016/2017 season.
The country's women elite league season is scheduled to commence on Saturday, March 25 while Saturday, April 8 was set for the lower-league teams.
In a statement, Ayo Abdulrahman, the league's Chief Operating Officer confirmed this in a reminder notice to clubs in the topflight and second divisions.
"We wish to once again remind the clubs in the two women's leagues (Premier League and Professional League) that the time allowed for them to complete registration for the upcoming season is on or before Friday, March 10," Abdulrahman said.
"This reminder is necessary and should be adhered to as the new management will not accommodate or entertain any request for an extension of the time frame for registration.
"The new management wants to be a stickler to schedule and time rules. So the reminder serves as a wake-up call for those who are used to the old ways of doing things to readjust and align themselves with the new dawn.
"Of course, it is still necessary to reinstate that the various commencement dates assigned to the leagues stay as clearly pencilled down in the communiqué.
"We are appealing to the clubs to work with the season's calendars and guidelines so that together we will achieve success in the upcoming season."
17 teams including recently added Capital City Doves will feature in the abridged league split into two groups with each top two finishers qualifying for a Super Four tournament where the eventual champions will emerge.
The topflight opening match of the season will take place at the Akure Township Stadium on March 25 where Sunshine Queens will host Ibom Angels.