Uroš Matić
'Nemanja may be my brother but I'm my own player' - Uros Matic realising a dream at FC Copenhagen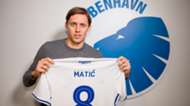 ---
EXCLUSIVE
---
As a first-team regular for a Chelsea team flying high in the Premier League and looking set to win the title, Nemanja Matic is living the dream. However, while his brother may be finding his place in the more modest Superliga with FC Copenhagen, he is chasing a dream and forming a career of his own.
WATCH: Traore scores sweet solo goal
Having started out at both Kosice and Benfica, the 26-year-old's career path has been similar to that of his brother, but the pair went their seperate ways, with Uros trying to catch up with Nemanja's success by signing for a Champions League regular. 
The Danish champions have a very tough introduction to their new season, which begins in February, as they face Ludogorets in the Europa League before taking on Brondby in the Copenhagen derby at the weekend.
And as he prepares to make his competitive debut for his new side, Matic is not put off by the pressure as he looks to ensure he is not stuck in his brother's shadow.
"Nemanja may be my brother but I am my own player and I think I can find a really good position here in this club and to make a big name for myself," he told Goal . "It is always good when you win almost every game in the league and you have a chance to play in the Champions League.
"I think for every player in the world, this is the dream. It was my dream too. I hear the atmosphere in this stadium is great on those nights, but let's focus on the next day and then we will see about the big targets. 
"I got the call that Stale [Solbakken: the manager] wants me and I made the step to come to Copenhagen. I think it is the right step for me in this moment and I am ready for it.
"This is a big club and I have high targets in my career and in my life. I don't just want to be satisfied just because I am here in a big club. I am here to show my quality and win titles and to make the supporters here very happy in the future."
The Matic brothers were brought up by Dragan and Biljana, who were both athletes. Their dad was a professional footballer, having played for FK Macva Sabac in the 1980s in Serbia as a strong centre-back who was also adept as a striker. But as both players moved away at a young age to pursue their careers, the support of their parents was key.
"[Leaving home] was difficult for me because I was just 17," he added. "It was also a big step from my youth career in Serbia. It was not so close to my hometown so I couldn't come back every weekend and when you are young man, you can feel this a bit. 
"During the years it has become normal. Football is my work and I enjoy it. The support from the family helped, my brother and mother and father. It was more difficult for my parents because we both left the country so it was tough, but the kids just wanted to play football somewhere.
"I have been to Slovakia, Portugal, Holland and Austria so for me, it is not a big deal to move to a new country because I will find a way to live and adapt. It is no trouble for me and nothing can surprise me and I am ready for every situation.
"I have played in many amazing clubs and from each club I have learned something. From the technical staff to the players. I try to be open to learn. When I sign for a club, I always say I want to stay as long as football but you never know what will happen. It is a strange job.
"Every thing is good for me here at Copenhagen. From the first day everyone was really open with me and it made the adaptation easier to this club and I am thankful for that."
A photo posted by Uros Matic (@urosmatic8) on Nov 13, 2016 at 6:47am PST
Not only is his first league start in a local derby, but in a match against two of the country's most successful teams - with the match being described as the "New Firm" match in reference to the "Old Firm" games between Celtic and Rangers in Scotland. Matic isn't daunted by the prospect and is determined to win the top prize this season. 
"It would be great to take three points in that game," he continued. "It is important for everyone. I have met many people here, many fans and it is really nice, I think we are going to enjoy it together. I have seen many videos and the players have spoken about it - it will be special. 
"It is always good when you win almost every game in the league and you have a chance to play in the Champions League. It would be really nice for me and my family [to have both Matic brothers in the Champions League].
Premier League Worst Team of the Week
"It would be the best scenario ever to play each other, but we need to both do so many things before this happens. In the next six months, we need to win the title and fight to be in the Champions League."
There could be many parties in the Matic family this season, regardless of the Champions League draws, with both brothers favourites to win the title at their current clubs.