Transfers
Muhsin Ertugral hopes Siboniso Gaxa signs with Ajax Cape Town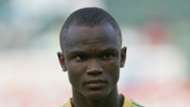 Ajax Cape Town coach Muhsin Ertugral is hopeful that a deal to get former Bafana Bafana defender Siboniso Gaxa on board can be rubberstamped, although he feels it will take him a few weeks to get to the required level.
"I can't wait to have him with us' but it will take another three weeks I think," Ertugral told the media.
Gaxa has been without a club since leaving Bidvest Wits in October 2017.
Given his international experience, Ertugral is baffled that Gaxa has been struggling to find a new home.
"A player like Siboniso is an international that played in Europe and having him on the sidelines [without a club], I don't understand it," Ertugral said.
Ertugral admitted in a recent interview that he tried to sign Gaxa during the 2008/09 season, but he's excited at the prospect of having him at Ajax.
"I would love to have him as quickly as possible and he is training with us, but since October he has had no game time at all. So, it will probably take him two of three weeks at least to get to a certain level," Ertugral said.
The former Golden Arrows and Orlando Pirates mentor said he will be patient with Gaxa, who hasn't played competitive football for over four months.
"We will play him on Monday' at least one half so that he gets some game time' but also you know that when players have not been involved' the injury factor can happen and so I am a little bit cautious about that," Ertugral concluded.
The Urban Warriors can sign Gaxa outside the transfer window as the 32-year-old is currently a free agent.