Schalke 04
Move over Pulisic! Weston McKennie set to be Bundesliga's next big American star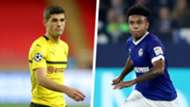 It was no surprise that Christian Pulisic's transfer from Borussia Dortmund to Chelsea made him the most expensive American ever - tripling the previous highest total - with the Premier League side paying $73 million (£57m) for the attacker.
The switch will take place at the end of the season, giving U.S. soccer fans a chance to see how their biggest star performs in the most popular league in the world. The Premier League's gain will be the Bundesliga's loss as American viewers consider changing the channel to watch Chelsea rather than Dortmund.
Pulisic's move to England opens up a whole new world of possibilities for American players, breaking the glass ceiling of what can be achieved for U.S. stars. It also opens up new possibilities for Pulisic's childhood friend and international team-mate Weston McKennie.
"It helped a lot to have someone my age breaking through at a high-level club in Germany," McKennie told Goal. "It showed me that, 'Hey, it's possible.' Just seeing him take that opportunity and making the most of it has been great to see."
The two 20 year olds are seen as the future of football in the United States, with the country looking ahead to the 2026 World Cup which takes place on home soil. Both will be in their prime once that tournament rolls around. Pulisic's departure is an example to follow, but also means that McKennie can now become the most important American in the Bundesliga.
Texas-born McKennie has outperformed Pulisic this season in Germany, but the role he plays for Schalke does not lend itself to headlines and highlight reels in the same way as Pulisic's trickery for Dortmund. The biggest moment of McKennie's club career to date came in October, with his winning goal against Lokomotiv Moscow helping the Royal Blues into the knockout stage of the Champions League.
His first Bundesliga goal soon followed, with McKennie gaining in confidence while in possession and making runs forward that he would have kept in check previously.
McKennie is adored at Schalke, who see the midfielder as more than just a marketing tool to sell jerseys in North America and gather more followers on social media. Bodo Menze was responsible for bringing him to the club's famed Knappenschmiede academy from FC Dallas, and has high hopes for his future in Gelsenkirchen.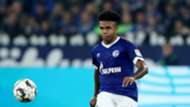 "He is on a wonderful path. He is a very complete defensive midfield player," Menze told Goal. "He is a very strong boy mentally and physically. He is the perfect player to get into the first XI of our club. He is in a very good situation playing as the number six. I have big hopes because his mentality and his character makes him the right boy to play for Schalke. He is a positive team player, a very nice guy with a certain humour, and a perfect team player."
McKennie started his path in football at age six when his father was stationed at the U.S. airforce base in Kaiserslautern. Unlike other American children, who have the choices of baseball, basketball and American football, McKennie's only option was soccer in Germany. He did not pick up an oval ball until he returned to Texas as a nine year old.
"I'm a player who attacks his opponents aggressively and puts them under pressure physically," he told kicker. "I think that's when the American Football player inside me comes out."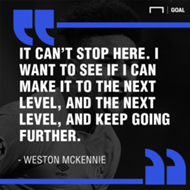 Pulisic's summer transfer could put him in the same company as Tom Brady, Aaron Donald and the American Footballers who contested this year's Super Bowl - sporting heroes who have become household names across America.
The way McKennie is performing for a resurgent Schalke could see him add his own name to that list as the U.S. closes in on the 2026 World Cup. He has the confidence to follow in his friend's footsteps - and the ability too.
"Me and my agent [former U.S. defender Cory Gibbs], whenever we see each other, we think about how far we've come," McKennie told Goal last year. "It's something that I do look back and I say, 'I've come a long way.'
"But it's also a motivation because it can't stop here. There's always more. I want to see if I can make it to the next level, and the next level, and keep going further."
Another positive performance against Manchester City in the Champions League last 16 on Wednesday will only further emphasise that McKennie is set to succeed Pulisic as the Bundesliga's big American star.