Transfers
Mourinho pleased to see Man Utd have 'control' of contract situation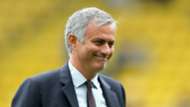 Jose Mourinho sees Manchester United in "control" of the future of their players, with only two heading towards free agency in 2018.
The Red Devils have several players entering the final year of their current deals, but the vast majority have the option for 12-month extensions.
3/1 for Stoke and Man Utd draw
That is the case with Ander Herrera, Juan Mata, Daley Blind, Luke Shaw and Ashley Young, while talks are being planned with Marouane Fellaini.
Only veteran performers Michael Carrick and Zlatan Ibrahimovic will be given the opportunity to dictate their own fate, with Mourinho delighted to see United avoiding the struggles which have inflicted certain Premier League rivals – with Arsenal currently paying the price for failing to tie key men such as Alexis Sanchez and Mesut Ozil down to fresh terms.
Mourinho said: "When the club has a one-year option it means they have one more year of contract so nobody is in the last year. The only player, two players are Zlatan and Carrick.
"Two players at the end of the season who are going to sit, analyse what they did and what they want to do.
"All the other players are under the club control until end of the 2018-19 season. We are speaking about June 2019. No player ends his contract."
Stability and continuity will be crucial to United as they continue to chase down major honours.
Mourinho has complemented those he inherited from Louis van Gaal with a number of high-profile additions, while moving out those deemed surplus to requirements.
Keeping the core of his squad together, while making minor adjustments, has allowed the Red Devils to avoid the need to undertake a complete overhaul and become embroiled in the future sagas which have proved so distracting elsewhere.