Manchester United
Mourinho is right this time - TV scheduling is hurting Premier League's European hopes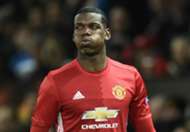 ---
COMMENT
---
The subject of fatigue has become Jose Mourinho's running narrative of his first season as Manchester United manager. Winners of the EFL Cup, they also reached the quarter-finals of the FA Cup and are now in the last eight of the Europa League. For a team aiming to crash the top-four party, the workload involved is treacherous to say the least.
They head to Middlesbrough on Sunday without the suspended Ander Herrera and Zlatan Ibrahimovic, while Paul Pogba is missing through injury and doubts remain over Daley Blind, Anthony Martial, Wayne Rooney and Marcos Rojo among others.
Premier League not the centre of the universe - Southgate
And Mourinho has been quick to blast the schedulers for his side having to back-up so soon after Thursday's win over Rostov, with United back in action only 63 full hours after taking to the field to see off the Russian outfit.
"We have lots of enemies. It's difficult to play Monday night. It's difficult to play Monday night with 10 men. It's difficult to play [Thursday]. It's difficult to play Sunday at 12:00. So we have lots of enemies," he told BT Sport.
And he wasn't done there. He continued his broadside in his pre-match press conference ahead of the Riverside clash.
"We play Sunday 12:00? Why? Why us? It's going to be even more difficult for us. But we go until our limit, like Marcos Rojo did on Thursday.
"We should be the last team to play at the weekend. It's as simple as that. We should play Monday, or the last match on Sunday, not 12:00. At least let us sleep a little bit on Sunday, right?
"My time in Italy was when the Italians decided that, when clubs go to the knockout stages of the Europa League and Champions League, the week before, if they play Tuesday or Wednesday, they play on the Friday. In Portugal, every time in Europe plays on the next Monday. Every country is doing that, Germany are doing that.
"Why don't we play five o'clock? Maybe Monday, okay, you can say the players have to go to the national team, there is a reason. But why do we play Sunday at 12:00? That makes no sense."
WATCH: Kuyt's five-year-old son's stunning solo goal
Mourinho is well known for searching out reasons to hit out at outside forces causing difficulties for his players, but this time around the Portuguese has a point. The Premier League fixture list has been thrown together with complete disregard for the European campaigns going on all around this season.
Sunday will be the second time United have followed a late Thursday night kick-off in Europe with a 12:00 start less than three days later, with September's clash with Zorya Luhansk backed up less than 64 hours later against Stoke City. It is the sort of turnaround no other leading European side has been asked to fulfil in 2016-17.
Indeed, of the 13 occasions that teams in the Premier League have been asked to follow a European game this term with a league encounter within 72 hours, eight of them have been Manchester United. If Juventus haven't once been asked to back-up within three days, why can't the Premier League authorities find a way to stop United doing so eight times already?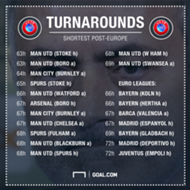 The decision to schedule the FA Cup quarter-final trip to Chelsea on a Monday night was made to meet TV deadlines days before United's Europa League fate was known. Had their tie with Rostov been drawn in reverse, a 12-hour flight to Russia would have been on the cards within hours of completing their game at Stamford Bridge. It was a clear sign of the misjudged priorities at work in English football.
Surely the team with the latest European commitment should be playing in the latest game possible that weekend? The only occasions when United have been extended the courtesy of a Monday night game have come when they have had Europa League games to follow on the Thursday.
It shows how preposterous the scheduling has been that United have even been given four early Saturday fixtures a full five days ahead of their own European game yet teams involved in the Champions League on the Tuesday or Wednesday have been handed later fixtures. Only a fortnight ago, United were asked to play Bournemouth at 12:30 on Saturday a full 125 hours before their next game, while Arsenal were sent to Liverpool at 5:30pm just three days ahead of their Champions League clash with Bayern Munich.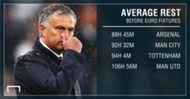 Mourinho has every right to be angry, but his side's lack of form and fitness is certainly not entirely down to the powers-that-be. Paul Pogba's injury might have something to do with the fact that Mourinho has selected him more often than any other United player this season rather than the fact forces are working against him and his club.
But if Juventus and Bayern Munich can be given Friday night games ahead of Champions League fixtures, and Real Madrid and Barcelona often get early Saturday matches before their continental games added to late Sunday games afterwards, then why can't the Premier League ever put their clubs ahead of their pockets when planning the weekend's football?
It is a flawed calendar which has seen United given extended lead-ins and shortened rest periods around European games. Every team on continental duty has been thrown a dud hand at some point this season, but the Red Devils have borne the greatest brunt.
Surely more evenly-rested teams would provide a more fascinating and fair product, which in turn can only be better for the league and its TV viewers across the world?