African All Stars
'Moses will be in the next Olympics diving event' – Twitter aims dig at Chelsea star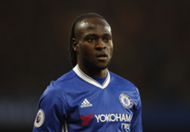 Victor Moses became the fifth player to be dismissed in the English FA Cup final after simulating a foul in the Blues' 2-1 defeat to Arsenal at Wembley.
Having found his way into the Gunners' penalty area, Moses went down under Oxlade-Chamberlain's harmless challenge and referee Anthony Taylor showed him the exit door after a second caution.
Twitter taunted the Chelsea star, with some even suggesting that he should feature in the 2020 Olympics diving event.
Victor moses will be in the next Olympics - diving event #FACupFinal pic.twitter.com/3pPQfHIEf7

— Dr Heather Semper (@hetha2009) May 27, 2017
God: Moses, you shall see the Promised Land but you shall not enter.

Victor Moses: Lemme just try pic.twitter.com/4UjyMw7nNh

— Igala_Alan_Shore (@i_am_Anomeli) May 27, 2017
Live video of victor moses pic.twitter.com/E8neX89oqL

— Tom Dilly (@Dillydobaggins) May 27, 2017
Victor Moses' Mrs: Baby come home
Moses: I can't I'm playing in an FA cup final
Mrs.: But John Terry is here
Moses: pic.twitter.com/YRGbKLp6A2

— Notorious Footy (@NotoriousFooty) May 27, 2017
Victor Moses dived expecting a penalty instead he rewarded himself a red card.  pic.twitter.com/wr0KWQTRf1

— Arsenal (@ArsenalPoper) May 27, 2017
Victor Moses getting out of that changing room before Conte gets in pic.twitter.com/5GJNNDEFJj

— Coral (@Coral) May 27, 2017
Victor Moses diving into the Red sea instead of dividing it  pic.twitter.com/dIYsgIqwqv

— Seraph (@Yommie_Scream) May 27, 2017
That dive from Victor Moses .pic.twitter.com/oV1tycxozH

— kaliswag justin (@JustoMafiction) May 27, 2017