Morocco v Iran
Morocco vs Iran: Live blog, text commentary, line-ups, stream & TV channel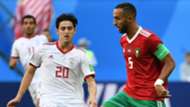 FULL TIME: Iran secure their first World Cup win since 1998 with a late own goal. You have to feel for Bouhaddouz but Iran have given themselves a real chance ahead of games against Portugal and Spain.
---
90+5 Mins: GOAL! IRAN LEAD 1-0! It's a horrific own goal from Aziz Bouhaddouz as he goes to head Ehsan Haji Safi's free-kick wide at the near post, only to steer it into his own net! Disaster for Morocco and jubilation for Iran as their players tear away in celebration and form a pile near the corner post. Iran are ahead with a minute left.
90+5 Mins: GOAL! 0-1 Own goal Aziz Bouhaddouz 
90+2 Mins: Now Iran win themselves a free-kick out on the left wing, in line with the Moroccan box. This could be one last chance here...
90+2 Mins: There's a fracas on the pitch between Bouhaddouz and Amiri after Morocco win a free-kick. Ansarifard is the man who gets the booking for the tackle, and it takes a moment for referee Cakir to defuse it all.
90 Mins: There will be an impressive six added minutes of time at the Krestovsky Stadium.
87 Mins: Ziyech cuts back on himself out on the right wing and flicks a cross into the Iran box; Pouraliganji intercepts and sparks a counter-attack to halfway before Morocco can peel back to halt him in his tracks. It's been a much more drab second half, compared with the zing of the opening 45 minutes, but there's still time for a winner in Saint Petersburg...
85 Mins: Jahanbakhsh is stretchered off and Iran throw on Saman Ghoddos to replace him. Five minutes - plus injury time - left on the clock after a rather stop-start quarter of an hour.
83 Mins: More injuries now and it's not good news for Iran; star man Jahanbakhsh is down and the stretcher is on. It doesn't look too serious, but precautions are always a good idea in situations like these.
82 Mins: Manuel da Costa is the final change for Morocco; he comes on for Amine Harit.
80 Mins: Ziyech! The second shot of the half goes to Morocco as the midfielder hooks a left-footed effort from just outside the box wide by a foot or so at the bottom-left corner.
80 Mins: Ebrahimi hobbles off down the tunnel, clutching his midriff; Majid Hosseini is on in his stead for Iran.
78 Mins: There's another pause for injury now, this time as Ebrahimi goes to ground. The Iranian doesn't look in the greatest shape; signals from the medics suggest a change will be required.
76 Mins: A bad fall means that Nordin Amrabat has to make way for his brother Sofyan Amrabat. Just over 15 minutes to go. El Kaabi also departs for Morocco; Aziz Bouhaddouz is the man to replace him
73 Mins: Amrabat falls heavily out on the right wing in the Iranian half as he challenges for a ball and physios swarm him within seconds. The Watford man looks to have been knocked out upon landing - he staggers to his feet after a moment, looking dazed and confused.
STAT: There has only been one shot at all in this half so far, way back in the 49th minute when Harit put that Amrabat cross wide. Iran are growing in confidence once more but neither look likely to snatch a winner right now.
70 Mins: Iran win a corner but are unable to make the set-piece stick; Morocco can only bring it away from their own goal by 30 yards though before Azmoun takes possession.
69 Mins: Ansarifard takes the free-kick and puts it long; too long, in fact, as it flies out a good few yards wide of the right post without touching the turf.
Iranian captain Shojaei is off for Mehdi Taremi; perhaps a wise call given that the captain is already on a booking and has been spoken to by the referee once this half.
68 Mins: Substitution Masoud Shojaei Soleimani off for Mehdi Taremi
65 Mins: Boussoufa floats a cross from the left wing in looking for El Kaabi or Belhanda in the box; his effort is too long for all parties within the penalty area though and flies out for a goal-kick.
64 Mins: Ziyech harks down the right wing, but can't keep the ball away from Haji Safi as he puts his own dribble just out of reach; he concedes a foul a moment later and Iran have a free-kick on the edge of their own box.
62 Mins: Morocco win a corner which Harit swings in from the right; Beiranvand punches it clear and Iran create a counter-attack that ends with Belhanda cutting across Shojaei just beyond halfway. The two players get into a little tete-a-tete with each other; no cards are shown but the referee has words with both.
59 Mins: El Ahmadi slides in under Jahanbakhsh on halfway and hooks the ball away, though in the process, he brings both him and his opponent to the turf.
57 Mins: Play is resumed with Ebrahimi able to continue and Amiri wins a throw-in deep in his own half a moment later to help take the pressue off Iran's defensive line
55 Mins: Ebrahimi makes a somewhat bonkers leaping challenge to sweep the ball out from under the feet of Boussoufa as the latter cuts a path towards the Iranian box; in the process, he injures himself and play is paused for treatment.
53 Mins: Belhanda executs a slide tackle on Jahanbakhsh now, just inside the opposition half, and tries to keep it from rolling over the touchline; he fails and Iran get a throw-in.
51 Mins: Hakimi leans into Jahanbakhsh from behind to give the latter a free-kick 40 yards out on the right wing; the latter blasts it beyond the box as he looks to deliver it to Azmoun at the far post.
49 Mins: Amrabat hurtles down the right wing for Morocco and flicks a square cross in to the left side for Harit; his teammate can't keep his shot down though and volleys it well wide and over the goal under little pressure.
47 Mins: Yellow card: Jahanbakhsh becomes the second Iranian to go in the book as he is given a yellow card for a tackle on Ziyech that leaves the Moroccan man on the ground clutching his foot.
46 Mins: We're back underway at the Krestovsky Stadium, with Morocco earning themselves a free-kick inside their own half almost immediately after Boussoufa is sent sprawling by a clumsy challenge. 
---
Neither side has ever won a World Cup game where they have been drawing at the interval, yet with 18 shots between them, there is the sense that something has to give. Morocco have still dominated in terms of possession; but given Iran's late surge in the final 10 minutes of the first half, will they be able to curb their opponent's chances of making this match a more even affair?
No goals in the first half means that it's all square at the break between Morocco and Iran in Saint Petersburg. Herve Renard's side started the stronger of the two, threatening to blow away their opponents with nine shots in the opening half-hour - but Carlos Queiroz's men are unlucky not to be ahead after Moroccan keeper Manir Mohamedi made a fantastic save to deny Sardar Azmoun five minutes from time. It's all still to play for in this vital Group B clash; half-time at Krestovsky Stadium, it's Morocco 0-0 Iran.
Half Time: It remains 0-0 in Saint Petersburg, Morocco have had the better of the first half but Iran have looked dangerous on the break.
---
45 Mins: Haji Safi! The Iranian defender is tasked with a free-kick from 40 yards out in centre-field and he goes close; the ball brushes the top netting as it skims over the crossbar. Two added minutes are on the way.
43 Mins: Save from Munir Mohamedi! Azmoun breezes through a loose Moroccan back four and comes up one-on-one with the keeper who gets a hand to his close-range shot 10 yards out; Jahanbakhsh wastes the follow-up and puts it wide off the outside of his boot.
40 Mins: Pouraliganji wins a free-kick near the edge of his own box after El Kaabi clatters into him in midair leaping for a high ball.
39 Mins: Ziyech floats an inch-perfect ball in from 30 yards out on the left wing that El Kaabi drifts a shade behind as he cuts into the Iran box; Beiranvand drops to scoop it to safety.
37 Mins: Azmoun goes down in a tackle and stays on the turf, necessitating a pause in play for him to receive treatment.
35 Mins: Over the crossbar! It's an ambitious, if poor effort from Jahanbakhsh who gets the angle but not the descent with his strike, elevating it way out of reach for Mohamedi to be troubled.
34 Mins: Yellow card Karim El Ahmadi. The former Aston Villa midfielder gets the second booking of the game as he nips at the heels of Azmoun some 35 yards away from the Moroccan goal; Iran get a free-kick as a result. Jahanbakhsh, kept quiet so far, will take...
30 Mins: Harit cuts a path down the left channel with considerable ease, and nips into the Iran box before putting a low shot straight to Beiranvand. It is Morocco who are still in control of this game for the most part; they have registered eight shots to two from their opponents.
26 Mins: Boussoufa feeds a deft ball down the right to Ziyech; the Ajax man can't keep the ball away from Haji Safi though and in challenging for possession, concedes a foul to the Iranian defender near the opposition box.
23 Mins: Iran appear to have lifted themselves into second gear; Cheshmi and Amiri combine around the edge of the Morocco box as they look to find a way through. Amrabat is able to pinch the ball after a moment and he hares off down the right wing, only to lose possession himself a moment later when he squares a ball straight to Ebrahimi on halfway.
20 Mins: Now it's Morocco who are forced to race back and defend after Shoejaei cuts around Benatia as the defender slips and breaks into the opposition box for Iran. His square pass inside to find Azmoun goes awry though; Saiss is able to clear away the danger
19 Mins:  How on earth did Iran keep that out? In the middle of a crowded box, Belhanda and Benatia both see strikes blocked by some frenzied defending to keep Morocco from finding the back of the net six yards out.
18 Mins: Amiri brings down Belhanda as slides across the latter's shins and Morocco have a free-kick 40 yards out
16 Mins: Just over a quarter of an hour gone at the Krestovsky Stadium and it's been all about Morocco so far. They have notched up three shots on goal in comparison to none for Iran - and have controlled a whopping 82 percent of possession so far as well.
14 Mins: El Kaabit tumbles 35 yards out from the Iranian goal as he looks to take in a long ball from Boussoufa under pressure from Pouraliganji; the referee waves away any chance of a free-kick and Morocco's attack peels back to halfway.
12 Mins: Iran make a rare incursion into Moroccan territory and win themselves a throw-in 25 yards out on the left wing; from it, Amiri tips a looping pass into the box looking for Azmoun, but Mohamedi has no trouble leaping to safely claim it.
10 Mins: Yellow card Masoud Shojaei Soleimani, Shojaei comes in with a rather late challenge in pursuit of Boussoufa just on halfway and the Iran midfielder has a yellow card brandished at him by Cakir.
8 Mins: El Kabbi drives a half-volley from the centre of the box just wide to the left as he meets another lovely cross tipped in from the right by Amrabat again.
Morocco are looking to defend a promising continental record today; African nations are unbeaten in five World Cup meetings against Asian opposition - three wins and two draws - since Japan beat Cameroon 1-0 in June 2010
5 Mins: Amrabat flicks a neat cross in for Belhanda from a tight angle on the right of the box; the midfielder's header steers it just over the bar. All one-way traffic for Herve Renard's side so far.
4 Mins: Consecutive corners for Morocco now after Rezaeian blocks a run from Harit and Cheshmi puts out the second following a missed attempt to strike the ball from Ziyech on the edge of the box.
2 Mins: First shot of the game goes to Morocco as Amine Harit squeezes a shot across the face of goal from the left edge of the Iranian box after he breaks through the midfield.
1 Min: We're underway in Saint Petersburg! Iran, in all white, win themselves an early free-kick inside their own half after Ziyech brings down Haji Safi chasing a ball from the start.
---
Here we go....
The national anthems have concluded and we're moments away from kick-off. The referee today is Cuneyt Cakir of Turkey.
We're just minutes away from kick-off and the teams are preparing to take to the field at the Krestovsky Stadium ahead of the national anthems.
5 Mins to KO: As for Morocco, they will be hoping that Hakim Ziyech can deliver the goods; their star attacker notched up 11 assists in qualifying, more than any other African player, and was awarded the Dutch Footballer of the Year Award for his performances with Ajax in during the 2017-18 campaign.
Team news ahead of kick-off and Iran will be looking to their star winger Alireza Jahanbakhsh to help guide them to victory today. The 24-year-old, who plays for AZ Alkmaar in the Dutch Eredivisie, finished last season as the division's highest scorer with 21 goals, marking the first occasion that an Asian player has topped the scoring charts in an European league
15 Mins to KO: Neither side offers a stellar record at the World Cup; between them, Morocco and Iran have managed three wins in 25 games across eight tournament appearances. Neither have ever won an opening game in the competition either; both have a chance to write a little bit of history on Krestovsky Island.
Mirroring their opponents, Iran are making their fifth World Cup appearance and, for the first time ever, are featuring in consecutive tournaments, having competed at Brazil 2014. Manager Carlos Queiroz can go one better; he makes his third showing in a row, having guided Portugal to the knock-out stages, losing against Spain in 2010.
20 Mins to KO: Morocco boss Herve Renard may be the only man to win the African Cup of Nations with two different teams - Zambia and Ivory Coast - but the Frenchman makes his bow as a World Cup manager today as his side appear at the World Cup for the first time in 20 years. The Atlas Lions have only made it past the group stage once, in Mexico 1986; could they spring a surprise progression this time around?
Hello and welcome to live coverage of the 2018 World Cup in Russia as Morocco and Iran meet in the opening game of Group B at the Krestovsky Stadium in Saint Petersburg. The pair meet for only the second time in their history, and for the first time in the sport's showpiece tournament - but in a group that includes much-fancied Portugal and Spain, can either of them boost their hopes of advancing to the knockout stages with a vital victory?
| | |
| --- | --- |
| Game | Morocco vs Iran |
| Date | Friday, June 15 |
| Time | 4pm BST / 11am US ET |
| Stream (US only) | fubo TV (7-day free trial |
---
Confirmed line-ups
---
Morocco have some familiar names in the starting XI with Mehdi Benatia being the standout name. Hakim Ziyech has also been a star for Ajax this season.
Confirmed Morocco XI: El Kajoui; Hakimi, Benatia, Saiss; El Ahmadi; Ziyech, Boussoufa, Belhanda, N Amrabat, Harit; El-Kaabi
Subs: Bono, Mendyl, da Costa, Fajr, Boutaïb, Aït Bennasser, Dirar, En-Nesyri, Bouhaddouz, S Amrabat, Tagnaouti, Carcela-González
Alizera Jahanbakhsh is the one to look out for in the Iran XI, the winger scored 21 goals in the Eredivisie this campaign.
Confirmed Iran XI: Beiranvand; Cheshmi, Pouralganji, Rezaeian, Hajisafi; Shojaei; Ebrahimi, Ansarifard, Jahanbakhsh; Azmoun
Subs: Torabi, Mohammadi, Mazaheri, Khanzadeh, Ghoddos, Montazeri, Ghoochannejhad, Taremi, Hosseini, Dejagah, Abedzadeh
---
TV Channel, Live Stream & How To Watch
---
In the United States (US), the game can be watched live and on-demand with fuboTV (7-day free trial) .
New users can sign up for a free seven-day trial of the live sports streaming service, which can be accessed via iOS, Android, Chromecast, Amazon Fire TV, Roku and Apple TV as well as on a web browser.
In the United Kingdom (UK), the game can be watched live on ITV or streamed live online using ITV Player.
| UK TV channel | Online stream |
| --- | --- |
| ITV | ITV Player |