I-League
Mohun Bagan file complaint against Aizawl FC after security lapses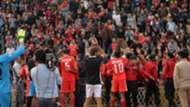 Kolkata club Mohun Bagan have sent a written complaint to All India Football Federation (AIFF), pleading Aizawl FC's home matches be shifted to some other venue unless the club can ensure safety for the opponent players.
This comes in light of the ugly scenes during the recent contest between the two clubs which saw missiles being hurled into the ground after the supporters got upset with the referee's decision to award a penalty to the away side.
Earlier this season, East Bengal were locked in the dressing-room for almost 45 minutes after the match as the crowd protested against a comment by former coach Khalid Jamil, calling him a traitor.
The Green and Maroon management has put forward the details of the fracas and stressed that it's not safe to organize a match at a venue which doesn't even have a fencing. The grievance has much to do with the alleged inconsistencies on part of the governing body, as the Kolkata club feel they are being subject to excessive security checks during their home matches, while the newer clubs are being let off the hook.
The defending I-League champions, on the other hand, stressed that Mohun Bagan's complaint stands on flimsy ground. "Firstly, the ground has been approved by the Asian Football Confederation (AFC). Secondly, the crowd had nothing against the Mohun Bagan players, so they shouldn't have had any security concerns. The agitation was only against the referee and his assistants," a senior official told Goal in condition of anonymity.
The punishment meted out by AIFF, however, is expected to be somewhere between these two contrasting standpoints. The club was slapped with a fine of 25 thousand for the Khalid Jamil saga, during which I-League CEO Sunando Dhar was also present at the venue. This time, the repeat offenders might have to fork out a bigger amount.