African All Stars
'Mohamed Salah's back 100 percent!' - Jurgen Klopp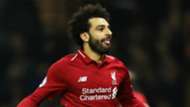 Liverpool manager Jurgen Klopp has heralded the return of Mohamed Salah to form, stating his star forward 'is back 100 percent' after a slow start to the 2018-19 season.
The 26-year-old suffered a shoulder injury in the Champions League final with Real Madrid in May and despite not fully fit, he represented Egypt at the World Cup in Russia.
The former Roma player then teamed up with the Reds for pre-season after a short break and struggled at the start of the campaign scoring three goals in his opening 11 games.
However, the forward has rediscovered his form - scoring six goals in his last seven games - that saw him rack up 44 goals last term across all competitions to the delight of the German tactician.
"Since before the last international break it was completely obvious in each session. It clicked again. He's there," Klopp told club website.
"The body is back 100 per cent - his physical things he can rely on. [It is] not about the goalscoring, just about overall performance.
"For the first time in his life it was clear that after scoring more than 40 goals, how do we deal with that?
"Will he score 40 goals again? You cannot score 40 goals in the first three games and as human beings how can he be convinced 100 per cent that he scores again 40 goals? Is it even important to score 40 goals again?
"Of course not. It is just a personal situation - do we talk about it or not? Do we leave it? He always tried everything. The only thing was his body needed time to adapt. [He was] still a world-class player, still a threat in a game, but in the scoring situations not the same calmness, coolness.
"Of all the teams, we had a longest season with Real Madrid. We both had a season two weeks longer than all the other teams.
"After that they all went to the World Cup. A very long World Cup. Egypt went out a little earlier but Mo played a World Cup being 94 or 95 per cent fit because of the shoulder. He had no problem with the shoulder anymore, it was not that it hurt, but being healthy does not mean you are 100 per cent.
"He then had two to three weeks off. That is actually nothing. The first three weeks of holiday for a football player after such an intense season you do not even feel rest.
"Then the pre-season starts again. So that is a time factor. Human beings need it. We don't give them time. The season starts: be ready. Even Mo Salah is a human being and he needed time.
"He was doing everything he can. If you are in doubt easily then it could affect you, but not for one second was he in doubt and I was not in doubt. Nobody here was in doubt."