Simba
MO Ibrahim wants Yanga move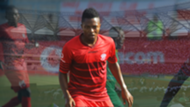 Simba Midfielder, Mohamed Ibrahim 'MO' has told the club that he wants to leave for Yanga in the next transfer window.
It has been reported that MO is unhappy with life at Simba after being omitted from first team action since November last year.
Yanga are believed to be monitoring the situation of the player who will be a free agent at the end of the season. The Jangwani outfit have been triying to sign him since the last transfer window but they failed after the player decided to remain at Simba.
Source close to the player have revealed the player is very keen on the move and he will be the second player in two season to join Yanga from Simba after Ibrahim Ajib last season.