CAF Champions League
MFM stand a chance to win in Mali, says Jonathan Zikiye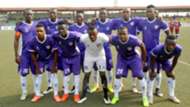 MFM FC's Jonathan Zikiye says that his side stands a chance to win their Caf Champions League opener against AS Real Bamako at the Complex Sportif Heremakono Stadium.
Fidelis Ilechukwu's side had qualified for their debut appearance in the continent's elite club competition and will face Malian side in their preliminary round clash in Bamako.
And the defender, who joined the Lagos based side in 2016 and helped to a continental spot last season, is confident they can make their first match one to remember.
"This is a very important game. We have prepared very well and ready for the match against Real Bamako," Zikiye told Goal.
"Getting this far, many did not consider us for this feat last season but here we are about to play our first Caf Champions League game and we are eager to prove everyone wrong.
"We have shown our can-do spirits strongly when we finished second last season and even gave Plateau United a close fight for the league title. This time, I believe we can repeat the same feat.
"We know playing against Real Bamako will really be tough but I have great confidence in the set of players in the team and feel we stand a chance to win in front of their fans.
"It is football, where anything can happen. We are highly motivated to get a win because we want to make our first game in the competition one to remember."