Lionel Messi
Messi told by 1986 hero Ruggeri to stop playing for Barcelona and focus on World Cup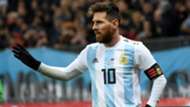 Lionel Messi should stop playing for Barcelona and start focusing on a World Cup campaign with Argentina, says 1986 hero Oscar Ruggeri.
A man who tasted global glory as part of a Diego Maradona-inspired squad the last time the Albiceleste got their hands on the biggest prize in football feels the star turn of the modern era needs time in which to ready himself for the challenges which lie ahead.
That means bringing his domestic season to a close and turning his attention to international matters.
Ruggeri believes that, once a Copa del Rey final clash with Sevilla is out of the way on Saturday, Barcelona will no longer require the services of their talismanic forward as they canter towards the La Liga title.
He told 90 Minutes Fox: "Do you think Barcelona will lose the Spanish championship if Messi doesn't play again?
"Messi can call the Barcelona president and tell him 'this is my World Cup; I'm going to dedicate myself to the national team'."
Ruggeri also suggested that the mercurial forward should be giving his full support to Argentina boss Jorge Sampaoli by prioritising events in Russia this summer.
He added: "He [Messi] must also call the national team coach and tell him that he is going to be completely concentrated on the World Cup."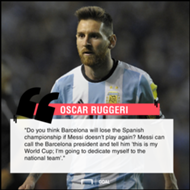 The demands of modern football dictate that sides get considerably less preparation time for major tournaments than they did in the past, but Ruggeri feels Messi can set an example for others to follow.
He said: "Before Mexico 1986 we had 65 days to focus, 65 days before the World Cup we were all together. 
"What do you think the rest of the players are going to do if Messi goes to focus with the coach?"
Ruggeri earned 97 caps for Argentina between 1983 and 1994 – winning the World Cup in 1986 and gracing the final against West Germany four years later.
He has seen his country fail to replicate that success in the events which have followed, with a disappointing defeat to Germany in 2014 as close as Messi and Co. have come to getting their hands on major silverware.