Uruguay v Argentina
Messi, Dybala & Icardi have the firepower to make Sampaoli's Argentina revolution a success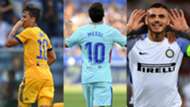 Where Jorge Sampaoli sets foot, however briefly, a revolution tends to follow. The diminutive coach from Casilda, Santa Fe turned Universidad de Chile into the most formidable team in South America in the space of a season, delivered Chile's first-ever Copa America title and had most of the football world talking about his spectacular Sevilla side, all within the space of two or fewer years work.
Now he begins his toughest challenge yet, at the helm of the Argentina national team as the Albiceleste restart their quest to make the cut for Russia 2018. All indications suggest he is preparing a similar shockwave built around three of the most promising forwards on the planet.
Argentina 13-2 to beat Uruguay 1-0
The Argentina training base in Ezeiza has been a hive of activity this week. And while Sampaoli has chopped and changed his preferred XI in preparation for every eventuality when the nation step out in Montevideo's Estadio Centenario for a crunch qualifier against Uruguay on Thursday, one thing seems certain: responsibility for breaking the famously mean Celeste backline will fall on Lionel Messi, Paulo Dybala and Mauro Icardi, a new trident for a new generation.
It is a gutsy call from Sampaoli. In placing his faith in Dybala and Icardi, who between them boast just nine caps and not a single international goal, the coach has ignored the claims and experience of Gonzalo Higuain and Sergio Aguero. Icardi in particular had been frozen out of the set-up since 2013, a single cameo at the same Centenario in a qualifying dead rubber his only taste of the national team to date. But it is also a choice rooted in common sense.
As the trio showed at the weekend, smashing eight goals combined for Barcelona, Juventus and Inter, Messi, Dybala and Icardi are the most exciting forwards he has to hand, and have all the talent necessary to grab a famous victory and put Argentina's stuttering qualifying campaign back on track.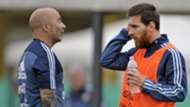 As the man himself says, however, the choice is about more than goals. Icardi is likely to start as the sole centre-forward on Thursday, with Messi and Dybala supporting him through the centre and drifting out wide as the situation demands. What really gives the Inter captain the edge is his dynamic play, his ability to interchange with the two left-footed wizards in a way the more static Higuain and Aguero cannot. "It's to do with the analysis of what happened with the national team last time." Sampaoli explained to reporters this week.
"We need a striker who, as well as goals, has the characteristics of an assist-maker. That's we why called [Icardi] up.
"We're facing a reality in which we are left outside of Russia and, with little time left, we have to take advantage of every virtue in this squad. When we talked with Gonzalo, we told him why we didn't call him up. We told him that we're hopeful of there being an argument that he can be with us again."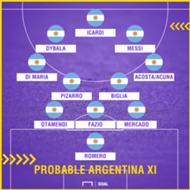 Most eyes, meanwhile, will be on the two playmakers behind him. Messi and Dybala have played precious few minutes together, and the question remains over whether the two will complement each other's talents, as Sampaoli hopes, or bump heads in a football pastiche of a Three Stooges sketch. Their similarities perhaps go a long way to explaining why a Barcelona move never materialised for Dybala, without a doubt the most talented young No. 10 in world football, but Sampaoli's tactical hunches have a habit of paying off and there is no reason to believe the pair cannot form a terrifying creative tandem in the final third.
The first glance of the Sampaoli era was a positive one. Seemingly invincible Brazil were dispatched 1-0 in June's friendly, the first blemish on Tite's otherwise flawless record with the Selecao, before Singapore were blown away 6-0 by a team that fielded five forwards and just two defenders, in a callback to the old W-M formation in days gone by. Now, however, the real work starts, and it does not get much harder than in a packed Centenario baying for blood against its old Rioplatense rivals.
Messi, Dybala and Icardi will have to gel fast, aided by a team that by fielding three centre-backs tasked with keeping the newly available Luis Suarez under wraps and using the electrifying pace of Angel Di Maria out wide has one overriding goal: get the ball quickly and cleanly to those who can do the most damage. It will be a tense, nerve-wracking 90 minutes for Argentina – but then who said that revolutions were supposed to be easy?