PSL
McCarthy won't change too much at City, says assistant coach Taylor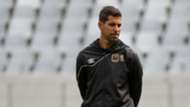 Cape Town City have begun their preparations ahead of the new season with much vigour and enthusiasm under the tutelage of their new head coach Benedict McCarthy.
The former FC Porto star is a relative novice in the coaching arena but great things are expected from him. However, McCarthy has chosen not to tinker too much at City, and has most importantly chosen to retain the technical team which were so influential in the Citizens' inaugural campaign.
Nonetheless, assistant coach Ian Taylor is excited to be working with the 39-year-old, but stated that McCarthy will not differ too much from his predecessor.
"Benni is obviously new to coaching, so it's going to be interesting to watch him develop this season," Taylor told The Cape Times.
"Already, at training, we can see he is bringing in new ideas and adding something different. Essentially, though, things won't differ all that much from what Eric (Tinkler) did last season. While there's no real reason to change too much, under Benni there will be small tactical changes.
"Importantly, because the squad, the playing personnel, hasn't changed, how much does Benni need to change? The same players are here, the same tactical discipline we had last season will be there, so there's continuity and that's good as we prepare for the new season," he said.
One of the standout features of City's monumental rise last season was their unpredictability and Taylor says that both he and McCarthy are fully aware they need to be a little unpredictable.
"I think, towards the end of last season, the opposition teams were already starting to work us out," Taylor said.
"So we need to be a step ahead this time, we need to be able to change things tactically, and we certainly cannot be too predictable. And I think we have the players to do so," Taylor added.
Meanwhile, City have reinforced their squad with several new additions, which include the likes of Teko Modise and Ayanda Patosi, and Taylor is confident that City can continue their impressive rise.
"We've got the squad, and it's probably even better," Taylor said.
"We want to improve, but we know it's going to be difficult. We over-exceeded expectations last time by finishing third, but there's real quality in this squad and there's no reason why can't do better," Taylor concluded.