Maritzburg United v Tshakhuma Madzivhadila
Maritzburg United 2-1 Tshakhuma Tsha Madzivhandila: Makaringe bids farewell to Team of Choice in style
South Africa Chief Editor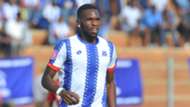 Mohau Mokate scored twice as Maritzburg United finished the relegation/promotion playoffs unbeaten following a 2-1 win over Tshakhuma Tsha Madzivhandila (TTM) in a match which was played at the Harry Gwala Stadium. 
Mokate benefited from a Fortune Makaringe pass before the former doubled his side's lead toward the end of the match, ensuring that the maximum points remained in the KwaZulu-Natal province. 
This was also Makaringe's final match as a Maritzburg United player. The South Africa international will join Orlando Pirates ahead of next season as confirmed by club chairman Farook Kadodia on Friday. 
The home side started the brighter of the two as they took the game to TTM soon after the final whistle. 
Eric Tinkler's men had already secured their top-flight status, but they played like a team desperate to win at all costs. 
Makaringe combined with Thabiso Kutumela as early as the third minute, but the former Bucs striker fired wide from close range. 
However, Maritzburg United still managed to take the lead in the 16th minute as Mokate connected with a Makaringe pass to make it 1-0. 
The South Africa international was again in the thick of things after 22 minutes as he linked up with Kutumela, but the former Bucs marksman couldn't hit the target. 
TTM struggled to create clear-cut goalscoring chances in the first half and it wasn't surprising to see Maritzburg United head into the dressing rooms leading by a goal to nil.
Both teams had a sloppy second half, but Maritzburg United were happy to knock the ball around, probably because they knew that even a draw wouldn't have change the fact that they will be campaigning in the PSL next season. 
With 14 minutes to go, Maritzburg United doubled their lead through Mokate, who received a good pass from Kutumela. 
It was the final nail in the coffin of TTM, who were not really in the game, and at 2-0, they were definitely down and out, especially after struggling to keep up with the pace of the game throughout out the 90 minutes. 
Maritzburg United nearly made it 3-0 four minutes later when Mokate played Deolin Mekoa through, but the latter's attempted was brilliantly tipped over the bar by TTM goalkeeper Tshepo Ramaele. 
TTM scored a consolation goal with five minutes to go through Thembisani Nevhulamba, but it was too little too late for them to salvage a draw, let alone win the match as Maritzburg United stood firm in the closing stages of the game. 
Tinkler used this game to assess his squad's strengths and weaknesses ahead of next season, and he would have been pleased with the effort and commitment shown by his players throughout the match.