Borussia Dortmund
Mario Gotze's teeth smashed out of place by sent off Vertonghen, reveal Dortmund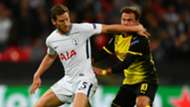 Borussia Dortmund coach Peter Bosz says Mario Gotze had a few teeth knocked out of place in a collision with Tottenham defender Jan Vertonghen on Wednesday.
Vertonghen was sent off with his second yellow card of the game after he caught Gotze in the face with his forearm during Spurs' 3-1 win over Dortmund in the Champions League.
Gotze, who came on as a substitute in the second half, was pictured bleeding from his mouth as he received treatment on the side of the field, and Bosz confirmed the 25-year-old was still in pain after the game
"He has problems with his teeth and must go to the doctor," the 53-year-old said afterwards.
"It doesn't look so good. Not all his teeth are in the right place. It hurts for him to talk."
World Cup-winning goalscorer Gotze has started all three of Dortmund's Bundesliga games, but it is not yet known if he will be available to face Koln in their next game due to his injury.
It was one of many low moments for Dortmund, who passed up several chances in the defeat at Wembley.
And Bosz heavily criticised his defence afterwards, despite their bright start to the game.
"It was clear today that we weren't well organised at the back defensively. I thought we started well, dominated and controlled the game with good football," the ex-Ajax boss said.
"But when you play like that, with space behind the back four, you have to defend it, and we didn't do that well enough."