Azam
Mao: Our goal is to return to International competitions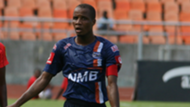 Azam FC Captain Himid Mao, has urged his fellow players to fight and win all the remaining Premier League games in order to remain in contention for the Premier League title this season.
Azam currently sit third in the league after losing against both Simba and Yanga in current weeks with both teams ahead in the Ligi Kuu Bara Table.
Azam who are not participating in international competition this year after finishing third last season only have the league and Federation Cup to fight for this season.
Speaking to Goal Mao revealed that even though they have lost two games against giants Yanga and Simba they still have hope of winning the Premium League title this season.
"Our goal is next year to return to the international competitions and we have two options, one is to win the Premium League and second is to win the Federation Cup so we have a big task ahead in order to fulfill our target," said Mao.
After losing 1-0 against Simba last week Azam FC dropped to third in the table with 33 points from 17 games played.