Premier League
Record-breakers City turn attention to Spurs - Preview, brought to you by Dashing Elite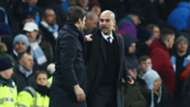 At the weekend, Manchester City got the all-important win in the derby over Manchester United, earning an 11-point lead in the Premier League title race, and possibly, one hand on the trophy. But the mid-week 4-0 demolition away to Swansea City has helped City smash a long-standing record in England.
No team in the country – among all the top four tiers – has won more than 14 matches on the trot. Manchester United was the first to get to the mark in 1905, followed by Bristol City later that year. Preston North End too won 14 in 1951, and then Arsenal, who was the only team to reach that mark as a top flight team, managed it in 2002. City now has 15.
And it's been a run that puts Pep Guardiola's side behind only Barcelona (16), Real Madrid (16), Inter Milan (17) and Bayern Munich (19) when considering the best winning streaks all over Europe.
There's not much time to rejoice though for the undefeated Citizens, who last failed to win a Premier League match in their 1-1 draw against Everton back in August.  Focus will now shift to hosting Tottenham Hotspur on Saturday.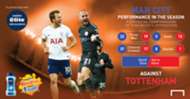 This term Spurs have been struggling to find the attacking zeal that has seen them end runner-up in the League for the past two seasons. In the past week though, they have managed to overturn their winless run of four matches with two wins on the trot, the recent being a scrappy 2-0 win over Brighton and Hove Albion.
Mauricio Pochettino will need to pull off another miraculous tactical masterclass against high-flying City, just as he did last year when Spurs scored a 2-0 win. They do have the tools to complete the job again, with Harry Kane scoring a brace against Stoke City over the weekend and Son Heung Min chipping with a few – including one against Brighton. With Dele Alli, Christian Eriksen and Erik Lamela manning the midfield, they certainly have creativity and flair. 
Still, the scales appear to be titled towards City this time around.
Their playmaker, Kevin De Bruyne, has been in stellar form throughout the campaign. And against the Red Devils, their defensive midfielder Fernandinho provided a glimpse of his vision in creating goal-scoring chances. Then there is David Silva, who has scored four in the last three matches. Guardiola has moulded his team into an attractive, aggressive unit capable of scoring almost at will. 
With one arm-already on the trophy and the form not looking to drop anytime soon, City will be hoping to extend that winning streak.