Premier League
Man United muzzle Spurs to battle to a vital win - Review brought to you by Dashing Elite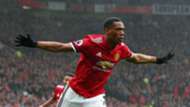 Tottenham Hotspur was left to rue the absence of injured Harry Kane, as the visitors failed to convert any chance during their 0-1 defeat to Manchester United at Old Trafford.
The match was pipped to be an exciting face-off between the in-form strikers of the two teams -- Kane for Spurs and Romelu Lukaku for the hosts. Only Kane was ruled out of the tie due to a hamstring injury. Replacing him was South Korean forward Son Heung Min, but even with the likes of Dele Alli and Christian Eriksen in the team, Spurs could not find a goal from their 13 attempts.
They were, however, the better team in the first half as they put pressure on David De Gea's goal and at times had the United backline backpedalling. 
Jose Mourinho's team though bounced back in the second half and began to take control. But it wasn't until the last 15 minutes of play in which the game truly opened up.
Alli made a speedy dash into the box and was noticed by Eriksen, who played a delightful chip above United's defenders. Only the youngster's volley from close range caught the wrong side of his foot and flew yards away from the post.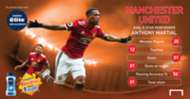 A minute later, Jesse Lingard sprinted down the right flank and crossed into the box. The lob was directed just behind Lukaku, but the strong Belgian striker back-pedalled and did get a powerful header on goal, only for the ball to crash into the post.
Lukaku, however, did manage to play a role in the winning goal. In the 81st minute, De Gea punted the ball downfield from a goal kick aiming for Lukaku. The 24-year-old rose well to meet the ball, but instead of controlling, he flicked it forward from his head in a well-measured pass to substitute Martial.
Spurs defender Eric Dier failed to read Martial's run, as the Frenchman burst forward between the two centre-backs and got to Lukaku's flick on first. He made no mistake with his left-foot strike that evaded both the diving Jan Vertonghen and the outstretched arms of goalkeeper Hugo Lloris to give United the lead.
The hosts were in control from that point on, and despite Spurs' rush to find a late equalizer, United weren't threatened. The win now firmly puts United in second place, while Spurs remain in third position with 20 points.