Transfers
Mamelodi Sundowns target Onyango did not go AWOL
Sandile Mazibuko and Ernest Makhaya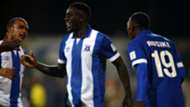 Maritzburg United defender Brian Onyango Mandela has refuted claims that he has gone AWOL.
The defender allegedly did not return to his club in South Africa for pre-season, fueling to speculation that he has been unsettled by Mamelodi Sundowns' interest in him.
But the defender, who turns 23-today has since moved to refute the claims, citing visa issues for his absence.
"I have not absconded duty and cannot do such a thing," he told Qwetu Radio.
"I had issues with my visa and that is what I was waiting for my club to sort out. I should be travelling to South Africa anytime starting from Tuesday," he said. 
"Yes, it is true that Sundowns are after my services, but I have not held talks with them because I have a binding contract with my club," he concluded.
The Team of Choice has also corraborated Onyango's story, saying there is no truth in media reports that the Kenya international had gone AWOL. 
In a statement released on Tuesday, the KwaZulu Natal-based said Onyango is still in Kenya as he's still trying to sort out his paperwork. 
The club expects Onyango to arrive in South Africa before the end of this week. 
"The story as presented misrepresents the brief discussion with the journalist when he asked the Chairman why Brian was not with the team at Richards Bay. He put it to the Chairman that the players he mentioned from other clubs including Brian, were AWOL because they wanted to go to Sundowns, to which the Chairman simply replied "Then you must ask Sundowns". As far as the club is concerned, Brian is in Kenya sorting out some paperwork and will be back before the end of the week," said the statement.