Ghana
Mali coach Komla eyes Ghana scalp in U17 Afcon final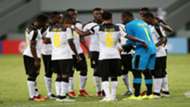 Mali coach Jonas Kokou Komla has praised his players following a 2-0 victory over Guinea to secure a place in the final of the 2017 Africa U-17 Cup of Nations in Gabon and is optimistic about upsetting Ghana in the final on Sunday to defend the title.
Ghana, after picking seven points to make it out of Group A, needed a 5-6 win on penalties after a goalless draw in regulation time to see off a resilient Niger and to reach the final for the first time since 2005.
"Guinea played a bit of a physical game but I instructed my players to remain strong during the match or else they give Guinea the chance to play the final," Komla said.
"The mindset of the players was right as they really wanted to beat Guinea in this match. We shall plan well for Ghana and we are sure it will be an interesting match. We are now thinking about winning the cup and surely we will succeed although Ghana are good side," he added.
Ghana have scored nine goals so far in the tournament. A win on Sunday will be their first trophy at this level in 18 years.