Transfers
Makaab to meet with Ajax Cape Town over want-away defender Coetzee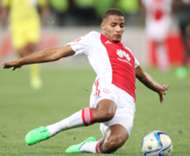 Ajax Cape Town defender Rivaldo Coetzee will together with his agent Mike Makaab meet the club this week to iron out his future.
Ari Efstathiou, Ajax chief executive officer, will return from overseas this week and he is expected to look into Coetzee's future.
"Ari has been overseas. This week he is coming back and we have a planned meeting with him, where we will try and sort out this issue," Maakab explained to Reuters.
"It is an open secret that the player is not happy. A lot of good offers have been refused. These offers include overseas teams that have shown interest. That's why the player is not training with the club," he said.
The 20-year-old defender has been linked with Kaizer Chiefs and Mamelodi Sundowns
"There are offers for Rivaldo, that I can confirm. I believe we should try and find an amicable solution to this matter," Makaab said.
Accoding to Makaab, Coetzee's absence from Stanley Menzo's side has nothing to do with Sundowns trying to sign him from Ajax.
 "I can categorically state that is absolutely not true," Makaab concluded.
On Monday, Ajax are said to have reported Sundowns to the PSL's Dispute Resolution Chamber after it emerged they are trying to collude the player into joining their them.