Transfers
Lukaku on his Man Utd future: It depends how long they want me to be here!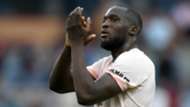 Romelu Lukaku intends to remain at Manchester United for as long as Jose Mourinho's side want to keep him.
The Belgium international striker is currently out of favour at Old Trafford, starting on the bench for the games against Everton and Manchester City, as well as the 1-0 win over Young Boys on Tuesday night.
Indeed, the former Chelsea forward has revealed the 10-minute conversation he had with Mourinho where he was told he was being dropped from the starting XI, insisting he was "angry" at the decision.
Lukaku is without a goal for United since September, when he found the net in the 2-1 win over Watford to make it four goals in five games at the start of the season.
Despite his recent struggles, the 25-year-old is not seeking an exit from Old Trafford and claims that he'll stick around until he's told he's no longer needed.
He told Bleacher Report: "Obviously you sign here to win as many trophies as you can. How long I'm going to be here depends on how long they want me here, you know.
"I will always give my best to this club because they gave me the opportunity to play and compete in the best league, so I'm always grateful for that."
Asked about his relationship with team-mate Paul Pogba and the potential difficulties of playing in a competitive environment with someone who is also a good friend, Lukaku added: "It's like taking and giving, I'd say.
"Sometimes it's better that you compete throughout the week against each other to play well at the weekend together.
"Because then I know I have a warrior who is going to give everything to the team and hopefully he knows what he can have from me, and then we just go out there and ball."
Lukaku was also asked about why he appears to be a lot happier playing for Belgium and whether it is as simple as Roberto Martinez's side winning more games at the moment.
He said: Yeah, yeah, yeah. Winning is the vibe, man, it's the vibe over there. It's different."
United sealed qualification to the last 16 of the Champions League with their narrow win over Young Boys on Tuesday and now face a trip to Southampton in the Premier League on Saturday.