Malaysia Cup
New look JDT ran riot while MIFA continues winning run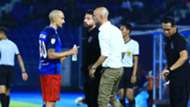 The second round of group matches in the 2018 Malaysia Cup kicked off on Friday and it saw shape beginning to form in Group C where MISC-MIFA continues to head the table but are now being pursued by a resurgent JDT side.
At Tan Sri Dato Haji Hassan Yunos Stadium, the fans saw the new management-coaching combination on the bench with both Figueroa and Mora prominent in guiding JDT to a handsome 5-1 win over Kedah.
Doubts crept in at half time after Sandro da Silva had equalised in the 35th minute to cancel out Fernando Marquez's stunning headed opening goal in the 13th minute. Fernando Elizari the one missing out on this match due to the 4-import rule.
But the second half would prove those doubts were unfounded as the home side swept past a stunned Kedah side. Ignacio Insa side-footed one in just two minutes into the second period before Hazwan Bakri scored directly from a free kick in the 73rd minute.
Futher goals from Gonzalo Cabrera and S. Kunalan late into the match secured JDT's first win of the competition and put them in second place. While Kedah's defeat meant they have yet to find a win after two matches and have only one point to show.
Over at Petaling Jaya Council Stadium, MIFA showed that their win over JDT wasn't just a one-off thing as they gained another superb win over a Super League team, this time Kelantan being the victim.
Kpah Sherman scored for the second match running, converting a spot kick in the 25th minute. MIFA doubled their lead in the second half through J. Satrunan and sealed a wonderful 2-0 win to keep their momentum going.
After two rounds of matches played, MIFA are the only team with maximum points and they are sitting pretty on top of the group, three points ahead of JDT. For Kelantan, their work does not get any easier after this as they go into back-to-back matches against JDT.