Real Madrid
'Lopetegui the best coach I've ever had' - Carvajal backs sacked Real Madrid boss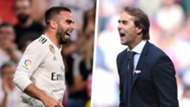 Julen Lopetegui was unlucky at Real Madrid and should still be seen as one of the best coaches in the world, according to Los Blancos right-back Dani Carvajal.
The Spanish full-back has worked with the recently ousted manager at club and international levels, and is in little doubt about the quality he possesses.
Speaking to Spanish TV station TVE , as cited by Mundo Deportivo , he said: "Lopetegui is the best coach I've ever had.
"Unfortunately he has not had that bit of luck with us."
Lopetegui was dismissed from his job as Spain manager in the summer, just three days before his side's World Cup opener against Portugal, after it was announced that he had agreed a deal to take the helm at Santiago Bernabeu after the tournament.
Since then, Real have lost Cristiano Ronaldo and suffered a severe slump in form that currently sees them lying sixth in the La Liga table having already lost four matches in the league so far this season.
The club also endured a lengthy goal drought, going 481 minutes before Marcelo finally found the back of the net in a 2-1 defeat at the hands of Levante .
But Carvajal is keen to point out the merits of a coach who he regards as a kindred footballing spirit.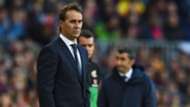 He said: "His way of seeing football, his way of managing the squad, his way of being with the players, I share these ideas.
"I have an idea of watching football and I said it before Lopetegui was appointed the Coach of Real Madrid and I will say it again now that he is no longer with us."
Since Lopetegui was sacked, Real have turned to former player and Castilla boss Santiago Solari to manage the team in a caretaker role.
The Argentine's first two matches in charge have seen Madrid record two wins on the bounce, a comfortable Copa del Rey victory over third division Melilla, and a 2-0 league victory over Real Valladolid to end a dire run that had seen the Spanish giants pick up just one point in their previous five matches.