African All Stars
Liverpool confident ahead of Merseyside derby against Everton, says Joel Matip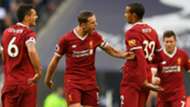 Liverpool are looking forward to the Merseyside derby against Everton with enough confidence, according to Joel Matip.
Jurgen Klopp's men have won 10 games of their 13 Premier League matches this term and are 11 points adrift of the Toffees who are sixth in the log.
The Reds, placed second in the Premier League with two points behind Manchester City, extended their unbeaten streak to 13 league matches with a 3-0 victory over Watford on Saturday.
And the Cameroonian defender believes they can see off a 'quality' Everton side at Anfield in what is a 'special week' for the club as they battle PSG in Wednesday's Uefa Champions League outing.
"At the moment we are on a run and we will try to continue it but there is a long season to go," Matip told Sky Sports News.
"They have a lot of quality in their team and this will be no clear game but we are positive, we have enough confidence from the last games.
"In a city like Liverpool, a derby is a big game. There are only Reds or Blues in the city and it will be a hard game for everyone in the town.
"A lot of people speak to you and are talking about the derby. It's a special week before the game and everybody is looking forward to it."
Matip who has been assured of his Liverpool moment has played just 272 minutes of football this season – including appearances in their League Cup and Champions League defeats to Chelsea and Red Star Belgrade respectively.
He came on as a late substitute for Roberto Firmino in the Reds' win at Vicarage Road last Saturday and has stated his readiness to fight for a starting role in Jurgen Klopp's team.
"Of course, this belongs to the game but they are doing very well and so you have to wait, this is how the game goes," he added.
"There are not a lot of reasons to change but I will do everything I can. I'm happy to stay and I'm happy to be here."