Baichung Bhutia
Legends including Bhaichung Bhutia, I.M.Vijayan, Renedy Singh, Bruno Countinho to play in Delhi on Tuesday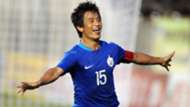 A number of former India internationals, including the likes of Bhaichung Bhutia, IM Vijayan, Renedy Singh, Bruno Coutinho, Bijen Singh, Carlton Chapman, Basudev Mondal, Alvito D'Cunha and Somatai Shaiza will be taking part in an exhibition match to be played at the Ambedkar Stadium on Tuesday afternoon.
ALSO READ | PRANAB MUKHERJEE ATTENDS MINI KOLKATA DERBY
The stalwarts will playing for an 'Indian Legends' XI' - a team consisting of former greats - that is being formed on the lines of the veterans' teams most top European football clubs have. They will be locking horns against against a selection of U-19 players, who have been taking part in Oorja - the football talent hunt tournament being run by Central Armed Police Force.
Though the spectators will have a free entry at the venue, the footballers have decided to donate a part of their appearance money to Bhaskar Ganguly, a former India national team captain who worked as the goalkeeper coach of East Bengal for a month last season after the sacking of Trevor James Morgan. Ganguly was the one who had scouted a teenager Bhutia and persuaded East Bengal to sign him when he was nineteen years old. 
ALSO READ | ALL NEWS FROM INTERNATIONAL CHAMPIONS CUP
Arjun Rai, an official of the erstwhile I-League team United Sikkim FC is working as the manager of the club. "The players will arrive in the city by Monday evening. The match is expected to kick-off at 4.30 p.m. on Tuesday," he informed Goal.
Many of these footballers have golden memories of the city because of their heroics in Nehru Cup and Durand Cup and it will be interesting to see whether the football fans of the city flock to the ground to catch them in action after long.