Leicester City
Legacy of tragic Leicester owner Vichai Srivaddhanaprabha will last forever thanks to Premier League triumph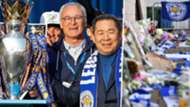 It is a tragedy that will go down in footballing infamy. The darkest day in Leicester City's history arrived just two and a half years after the club's greatest hour.
Vichai Srivaddhanaprabha, the much-loved owner of the Foxes, ties together both of these moments.
On May 2, 2016, the man affectionately known as just Vichai celebrated football's most heart-warming fairy tale as Leicester were miraculously crowned Premier League champions.
But on October 27, 2018, Vichai's fairy tale would descend into a nightmare. On Saturday evening – following the 1-1 draw with West Ham - the helicopter that collects Vichai after every home match at the King Power Stadium tragically crashed just seconds after take-off.
All five people on board died, including the 60-year-old Vichai. It is a disaster that has rocked football to its very core.
Even before the terrible news had been confirmed, a vigil began outside the ground. Thousands of fans left flowers, and also, according to the BBC, a statue of Ganesha. Ganesha is one of the most important figures in the Hindu religion, known as a "remover of obstacles".
Srivaddhanaprabha certainly removed obstacles during his lifetime. He treated fans with affection and helped all Foxes live the unthinkable in 2015-16. They began that season 5000-1 outsiders with the bookmarkers, but ended the campaign as the best team in the land.
The team coached by Claudio Ranieri - and led by the previously unheralded Jamie Vardy, N'Golo Kante and Riyad Mahrez - captured the hearts of all football fans across the globe.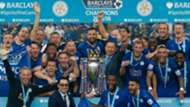 But it was Srivaddhanaprabha's affection for the club - and the club's affection for him - which ran even deeper. He was an extremely generous man, once laying on free beer, donuts and hot dogs on his own birthday so supporters could celebrate with him.
He also subsidised away travel for fans, capped at £10 per supporter. Two female Foxes interviewed by Sky News after the accident claimed Srivaddhanaprabha had even offered to buy breakfast for the travelling Leicester supporters ahead of next week's game against Cardiff.
He was similarly generous with the squad; they were each gifted a BMW sports car for winning the title, worth £100,000 each.
This was all a far cry from his humble beginnings; he initially opened a duty-free shop in his native Thailand in 1989 and built it into an empire now known as King Power Duty Free. His big break came when the company won the contract to provide duty free concessions at airports across the country. He was the fifth-richest person in Thailand at the time of his death, estimated to be worth around £3.8 billion ($4.9bn) by Forbes.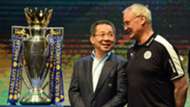 A devout Buddhist, he had Thai monks bless the pitch and gave players amulets before their title success. He loved polo, and was regularly pictured with royal families from across the globe. He also owned Belgian football club OH Leuven.
Srivaddhanaprabha was born Vichai Raksriaksorn, but was bestowed a new surname in 2012 by King Bhumibol, the previous Thai monarch. Srivaddhanaprabha means "light of progressive glory", and recognised his many contributions towards social responsibility in his homeland – his business ran a number of programmes geared towards tackling education and health issues among children.
He bought Leicester City in 2010 for a fee of £39m while they were still in the Championship, naming his son Aiyawatt Srivaddhanaprabha as his vice-chairman. He pumped millions of his own cash into the club and they were promoted to the Premier League in 2014. After narrowly avoiding relegation in their first season back in the big time, Vichai's team achieved the seemingly impossible a year later.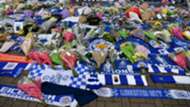 Adored throughout the city, in 2014 Srivaddhanaprabha was awarded an honorary degree by the University of Leicester, which recognised his achievements in business in Thailand and his contribution to local sport. A man of few words, Srivaddhanaprabha gave a short speech on stage, addressing the professors and students present.
He said: "It is my great honour, having the chance to stand on this stage today.
"I am so proud to be a part of Leicester City, and I am more proud to be a part of the University of Leicester. I promised to do my best for our Leicester board, to the university, and the football club."
He did not succeed in just doing his best. In leading underdogs Leicester to Premier League glory, Vichai Srivaddhanaprabha became immortal. His legacy will live on forever.