Simba
Lechantre: I expect to win by more than five goals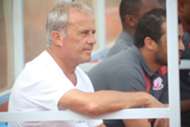 Simba Head Coach Pierre Lechantre has promised to win tomorrow's CAF Confederation Cup game against Gendarmerie from Djibout.
Simba who are facing the Djibout team in the preliminary rounds of the competition will be hoping to start with a win that will put them in a good position to progress before they play the return leg away from home.
Speaking to Goal the French coach said their preparations are going well and everything is looking great ahead of the game.
"With the preparations we have done l expected to win by more than five goals because all my players are fit and they promise me and Simba fans a victory" said Lechantre.
Simba who failed to qualify for continental competitions for the past four years will be hoping to return with a win setting them up for a bright start in the competition.