Evan Dimas
Last chance for Evan and Ilham to remind everyone why Selangor pursued them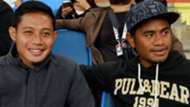 ---
BY        ZULHILMI ZAINAL       Follow on Twitter
---
"Are these the Indonesian stars Selangor signed? They're no better than our local boys!" these are the words said off-the-record by a Malaysian player regarding Selangor's Indonesian duo Evan Dimas Darmono and Ilham Udin Armaiyn, after his side thumped the Red Giants in a Super League clash earlier in the season.
Maybe it was his euphoria talking, but the sentiment expressed by the player regarding the duo has been proven hard to deny.
After the infamous transfer saga involving Indonesia U-23 stars Evan Dimas Darmono, Ilham Udin Armaiyn and Selangor at the start of the season, it must be said that the duo have had a very underwhelming league campaign, in which the Red Giants finished in eighth position.
Despite having had a standout season at Bhayangkara FC and the junior Indonesia side in 2017, Evan and Ilham have so far failed to replicate their earlier forms for Selangor.
They both have provided a smattering of assists and scored a total of four competitive goals so far, but those who have been following Selangor would no doubt be familiar with the frustration felt when they see the duo play.
Evan has not made too many mistakes in midfield, but he has not shined either, especially when fans still remember his sublime performance for Indonesia U-23 in last year's Southeast Asian Games, which was held in Malaysia. The Selangor engine room has remained the weakest link in the team's gameplan all season long, and Evan's introduction to the squad has not been able to alleviate this woe.
Meanwhile Ilham, playing mostly as a forward, has been unconvincing in the final third. Whether to feed the ball to a teammate in the box or to go for glory himself, he has consistently displayed hesitation in his decision-making, and more often that not, the openings he created would go begging.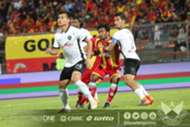 Ilham Udin (middle). Photo from Selangor.
Their lack of impact had been acknowledged by Selangor head coach Nazliazmi Nasir himself, and had the club been in a better financial situation, the duo might have been given the axe in the mid-season transfer window.
To be fair, the duo's inability to shine for Selangor is partially due to the fact that their highly-effective Spanish goal machine, Rufino Segovia has been made the team's main channel of attack this season. Any team with a striker who is as hard-working and effective as Rufino is would be crazy not to let him have the attacking rein.
The funny thing is, now that Evan and Ilham are expected to turn out for Indonesia U-23 in the coming men's football event of the 2018 Asian Games, any improvement shown by them in the competition would still be met with backhanded compliments from the Red Giants' fans. If they play well for the host country, Selangor supporters would surely be asking "Why can't they play that well for Selangor?"
Time is running out for Evan and Ilham to prove themselves at Selangor. Although the Malaysia Cup will kick-off this weekend, they will be absent for two or three matches due to their Asiad commitment, and they need to hit the ground running when they return to Malaysia. Even if they eventually decide to leave Selangor when the season ends, and even if Indonesian clubs are still clamouring to sign them next season, they must remind everyone why the Red Giants had feverishly pursued them throughout the whole 2018 pre-season in the first place, if only to restore their pride as among the best young Indonesian players.
Also follow Goal Malaysia's new Instagram account!