Chelsea
Kurt Happy Zouma reveals Van Damme inspiration behind his unusual name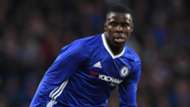 Chelsea defender Kurt Zouma has revealed that his parents took inspiration from a Jean-Claude Van Damme movie when deciding what to call him.
The Frenchman, whose middle name is Happy, appears to be have been cut from the same stone as the famous actor that has graced many a Hollywood movie down the years.
Pirlo: Conte is the best, he's a genius
Among those was the 1989 production 'Kickboxer', where the Belgian played the character Kurt Sloan.
Zouma is now a no-nonsense man mountain in his own right, with the 22-year-old a centre-half that few opponents relish tangling with.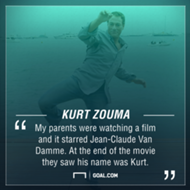 He told the Football Association about his naming story: "My parents were watching a film and it starred Jean-Claude Van Damme.
"He was killing everyone in the movie and at the end of the movie, they saw that his name was Kurt.
Mou can learn from Conte about Pogba
"They said, okay we'll call this kid Kurt and we'll put Happy [as his middle name] because he will always be happy."
Zouma had to conjure up all of his powers of positivity during a recent spell on the sidelines.
His character, and name, stood him good stead, with a return to competitive action made against Peterborough in January after almost a year nursing his way back from a cruciate knee ligament injury.
Zouma, who has Manchester United in his sights as the Premier League heavyweights prepare to meet in the quarter-finals of the FA Cup, added: "I had a bad injury so I needed to look after it.
Chelsea v Man Utd: Line-ups & preview
"You are waiting and waiting, but I was always laughing with the boys and my family, and you say this is the life.
"Playing FA Cup games was very good for me to help get my level back, and it's a good competition because we want to win it."