KPL
KPL set to host security seminar ahead of season kick off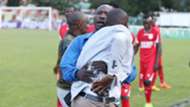 Kenyan Premier League Limited has organized a one-day security workshop ahead of the 2018/19 KPL season kicks off.
All the 16-KPL clubs are expected to send their respective Secretary Generals/Chief Executive Officers (CEOs) and Team Managers to attend the seminar set for November 30 in Nairobi.
KPL, through the Stadium Safety and Security Committee (SSSC), have organized a security workshop set to take place at the KPL Headquarters, whose main is to help clubs improve on security arrangement when hosting matches.
SSSC Chairman Lt. Col. Erick Williams Oloo will be among the key speakers of the day and he will tackle the importance of security at KPL matches
KPL Head of Technical Services Safety and Security, GMT Ottieno will address match hosting logistics, while Lt. Col. [Rtd] Mathews Waria will tackle the role of stewards in enhancing security
The need by Team Managers in the submission of team sheets well in advance will also form part of the discussion. After the meeting, the league will then kick off on December 8 with champions Gor Mahia taking on Bandari FC.