Liverpool
Klopp denies Liverpool paying price for failure to sign Van Dijk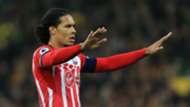 Jurgen Klopp refuses to believe that one signing – potentially Virgil van Dijk – would have addressed Liverpool's defensive shortcomings.
The Reds were heavily linked with the Southampton centre-back throughout the summer transfer window, but saw the deadline pass without a deal being done.
Liverpool 14/1 to win Premier League
On the back of their inability to strengthen at the heart of their back four, the Anfield outfit have opened the 2017-18 campaign with more disjointed performances to further highlight their major weakness.
Sevilla exposed those frailties once again in Champions League competition on Wednesday, but Klopp is adamant that he would have made a market move if he considered one player to have been the answer to his problems.
He told reporters after a 2-2 draw in the Reds' first group stage outing of the season: "I know you are always looking for this thing – the defence was always something being talked about: 'We didn't sign this or that'.
"If these problems could be solved by one player you can imagine we would have put all our money into it and say: 'Let's do this'.
"It is about being dominant and losing a bit of a grip on the game in all the defensive moments.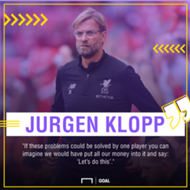 "There is space for improvement. We need to learn to be dominant and not give easy goals.
"It is not a general defending problem but we have to improve 100 per cent."
Having opened the season with a 3-3 draw away at Watford, and suffered a 5-0 drubbing at the hands of Manchester City last time out in the Premier League, Liverpool have now conceded 13 times in seven fixtures across all competitions.
They have countered their issues at the back with 16 goals at the opposite end of the field, but they will be forced to make do with those at their disposal until at least January after taking the decision not to land a centre-back over the summer.