I-League
Khogen Singh quits I-League champions Minerva Punjab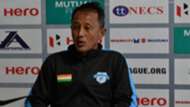 Even after guiding Minerva Punjab to silverware in the 11th edition of I-League, head coach Khogen Singh has decided to leave the Warriors. The Manipuri coach was not offered the profile of head coach and was instead asked to lead the youth development programme of the Punjab-based side, which irked Singh.
"I myself left the club. I did my best job while I was the head coach. They gave me the opportunity to coach the senior team last year but this year Ranjit Sir, asked me to lead the youth development programmes. I have to improve and I am still learning. Only if I continue at the highest level I can do that. Staying back at Minerva would have been a step backwards for me," said Singh exclusively to Goal. 
A few days ago, veteran coach Bimal Ghosh had doubted Singh's abilities as a coach in his interview with Goal. He had said, "Khogen Singh is a head coach only by name. All important decisions are taken by the owner (Ranjit Bajaj) from diet to strategy. Bajaj does not care whether he is there or not." 
The I-League winning coach lashed out at the former coach calling him 'jealous' and 'unprofessional'. "Whoever has said that he is not a professional. They are not doing anything. They are only talking. I am doing my job in the best possible way.
"Last year there was a different coach at Minerva and Ranjit Sir was there. But they performed miserably. Football is a performance-based game. You do the talking on the pitch. Let him say whatever he wants. Some coaches are jealous of others success," blasted Singh. 
Singh is currently working as a technical director in a football camp in Manipur, which has been set up by former India international Gourmangi Singh. "For the next two to three months I will be working with the kids and wait for an offer. I am completely free now. I am waiting for offers as I must continue coaching in the top division to improve myself," stated Singh. 
The former Air India player has already turned down the role of head coach offered by South United FC, which is based in Bengaluru. They ply their trade in the Bengaluru Super Division and is aspiring to enter national circuit next year by participating in I-League 2nd Division. 
Tiddim Road Athletic Union (TRAU) FC has a chance to qualify for I-league next season if they become 2nd Division Champions and Singh is looking forward to it. "If TRAU qualifies for I-League next season and if they offer me a good package I can think about it," said Singh before signing off.