Kerala Blasters
Sevens football season kicks off in Kerala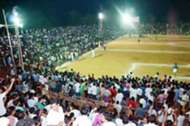 The new season of Sevens football has kicked off in Kerala and the first match of the season, in a tournament organized by Abhilash Football Club, Kuppooth, was held at Edappalam on November 13. The tournament was inaugurated by football legend IM Vijayan. 
With more than 25 participants, the profit earned from the tournament will be donated to the Chief Minister's Distress Relief Fund (CMDRF) and this is something that the other tournament organizers are also likely to follow. 
Sevens football is hugely popular in Kerala and the craze stems from the fact that the association with such tournaments are deep-rooted in the small provinces particularly across the Malabar region that includes Malappuram and Kozhikode. 
The Kerala Sevens Football Association (KSFA) helps run a lot of the sevens football tournaments in the state. Thirty teams have registered under the association and they usually conduct around 50 tournaments. General Secretary of the KSFA, Mr Ashraf Bava believes supporters ultimately want to be able to enjoy the sport.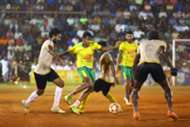 "There are no other tournaments being conducted here and hence Sevens has gained a following. People want to watch football and footballers, they want to enjoy. Around 8-10 tournaments have stopped taking place in Kerala including Chakolas, GV Raja, Sree Narayana," Ashraf told Goal.
Unlike professional clubs, the footballers, both foreign and local players, are much more accessible for the supporters. Watching their local team play is something close to the hearts of the fans' community and has become a part of the supporter's lifestyle in several parts of the state. Adding to the entertainment factor is the smaller grounds and fast-paced, end-to-end football on offer. 
"The timings of the sevens matches are one of the reasons why the concept is popular. Also, there are matches every day. The clubs have a lot of history, only a few clubs have been formed in the last 10 years and hence, there is dedicated fans following. People are able to connect better with the clubs and players," argued Midlaj, a football aficionado and the co-founder of Fanport, a regional web portal that regularly covers Sevens football in the state.
The conditions for playing football are still sub-par. The turfs and playing gear for footballers used to be of low quality or non-existent but there has been a notable improvement in this regard recently.
There have been concerns over professional footballers taking part in local Sevens tournament organized in their hometown. Kerala Blasters defender Anas Edathodika and FC Pune City's Ashique Kuruniyan are prime examples of footballers who have recently played Sevens football.
"I am not commenting on the positives and negatives about it. These games are organized at the provincial level. When professional footballers visit their region when they are on leave and they are asked to play a game, they cannot say no.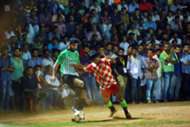 "In my personal opinion, the players who are at their peak and playing well for club and country, should try and stay away from Sevens football. They are an asset to Kerala and India. But I don't think it is wrong to play," opined Ashraf. 
The entry of professional clubs such as Kerala Blasters and Gokulam Kerala has not affected the popularity of Sevens football in these regions but there has been a notable decrease in turnout on some match days.
"I don't feel the popularity of Sevens tournaments has gone down since the entry of Gokulam Kerala and Kerala Blasters. Both these teams enjoy a good support. When these two play big matches, the number of people coming to see Sevens football slightly come down," Ashraf admitted.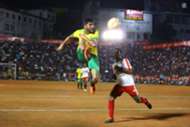 "With ISL and I-League running in parallel, there are a lot more football games taking place and that has had an impact in terms of attendance in Sevens tournaments," said Midlaj.
A notable decrease in the number of tournaments is expected this year in the aftermath of the recent floods that hit Kerala. 
Ashraf said, "There has been a difficulty in getting sponsors. A lot of people are helping those who are in need after the Kerala floods. So at this time, asking for funds from sponsors is a difficult thing to do."
It is that time of the year when the regional football aficionados look forward to watching their local lads and 'Sudanis from Nigeria' take the field under the floodlights to play an exhilarating game of football.