African All Stars
Keme Balogun Boys to represent Lagos State at COPA Coca-Cola Regional Stage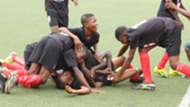 Keme Balogun Junior Secondary School emerged winner of the 2017 Copa Coca-Cola Lagos Grassroots Finals after defeating Coker Junior Secondary School 3-2 at the Legacy pitch of the National stadium on Tuesday.
Following a strong display of incredible football talent, Keme Balogun Junior Secondary School have successfully qualified for the next round of the games and will be representing Lagos state at the regionals stage of the competition.
Missed out on the fun? Watch it here now
Elated with their win, highest goal scorer from the winning team, 14 year old Oyenuga Toluwalope, quipped that the team is determined to win the trophy this year. "We are definitely getting to the finals. We are strong, committed and determined to push through it all," he said.
Expressing her delight at the display of raw football skills by the teenagers, Senior Brand Manager, Coca-Cola Nigeria, Soji Omoigui said that Coca-Cola would continually provide a platform for teenagers to support their passion for football.
The regional stage of the competition commences 1st of June.