Kaizer Chiefs
Kaizer Chiefs to face Mamelodi Sundowns in Shell Helix Ultra Cup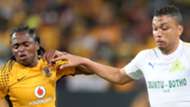 Kaizer Chiefs will take on Mamelodi Sundowns in the inaugural Shell Helix Utra Cup match on the 21st of July 2018.
This was revealed at the well-attended launch at the FNB Stadium on Monday afternoon, and the encounter is scheduled to take place at the iconic football venue.
Stadium Management South Africa (SMSA), who manages the FNB Stadium among other stadiums, are the rights holders of the pre-season tournament, while the fixture is sponsored by Shell Downstream SA.
The two parties signed a three-year agreement and the South African Broadcasting Corporation (SABC) will televise the match after acquiring the broadcasting rights.
The competition was launched following the postponement of the annual Carling Black Label Cup which features Amakhosi and their Soweto rivals Orlando Pirates.
The famous pre-season fixture was postponed to allow sponsors, Carling Black Label's new stable-mate in the AB InBev portfolio, Budweiser the King of Beers, to activate their global sponsorship for the 2018 Fifa World Cup, over the next two months.
SMSA released the following statement regarding the Shell Helix Utra Cup launch: 
Stadium Management SA (SMSA) is pleased to announce a new annual pre-season fixture on the domestic football calendar, which will see South Africa's top teams go head-to-head for bragging rights at the Shell Helix Ultra Cup.
The event Rights Holders are Stadium Management South Africa while the fixture itself will be sponsored by Shell Downstream SA and forms part of a three-year agreement between the two parties.
The first fixture will see Kaizer Chiefs take on current League Champions Mamelodi Sundowns at FNB Stadium on 21 July 2018.
The three-year agreement will have the possibility for extension by the title sponsor, while broadcast rights have been picked up by SABC and associate sponsorships signed with Vodacom View+. In addition, Gauteng Provincial Government will assist with logistical arrangements as the host province.