Transfers
Juventus should sign world class Marquinhos to replace Bonucci - Ravanelli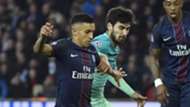 ---
EXCLUSIVE
---
Juventus should sign Paris Saint-Germain defender Marquinhos to replace Leonardo Bonucci, according to former Bianconeri hero Fabrizio Ravanelli.
AC Milan completed the stunning €42 million signing of Bonucci on Friday and Ravanelli has admitted the news took him aback.
AC Milan confirm Bonucci agreement
"I'm very surprised. It's surprised everyone," the ex-striker and 1996 Champions League winner told Goal.
"But Juventus are a team who always want to win and, when there is a little problem in the club, it is better to say thank you and goodbye to the player and resolve the problem.
"I think this was a 50-50 decision by Juventus and Bonucci. I think, and this is my opinion, that Bonucci wanted to leave Juventus, and Juventus said 'Okay, no problem'."
Goal understands that Roma defender Kostas Manolas is Juventus' preferred replacement for Bonucci but Ravanelli has picked out a different option.
"Juventus need to buy a big defender," he stressed. "Someone like Marquinhos, Thiago Silva or Kostas Manolas. For me, Marquinhos [is the man]. He is one of the top five to 10 defenders in the world."
There has been much debate in the media and among fans about the relatively low transfer fee, with Milan paying a price considered by many to be well below Bonucci's market value.
Manchester City spent €15m more this week to sign Tottenham's Kyle Walker, but Ravanelli has offered his take on why Bonucci was sold for a comparatively low price.
How is Bonucci worth less than Walker?!
"The transfer fee is very low but Bonucci is nearly 31-years-old," Ravanelli noted.
"I also think Bonucci wanted to stay in Italy. In Italy there isn't the money to pay more. If he went abroad to Manchester City, Bayern Munich or Real Madrid, it is possible Juventus could have made much more money but for an Italian club this is the price."
Milan are the biggest spending club in Europe this summer, signing a host of players including Andre Silva, Franck Kessie, Hakan Calhanoglu, Andrea Conti and Matteo Musacchio, but Ravanelli is not convinced the addition of Bonucci will see them immediately challenge for the Scudetto.
"No, I don't think so," believes Ravanelli.
"It is very hard when you buy a lot of players. It is difficult to find the right blend very quickly. They need time. I think Milan can have a very good season and maybe qualify for the Champions League. But I don't think they can win Serie A because Juventus, Napoli and Inter are much better."