Malaysia Cup
Morais happy to achieve two targets in win over Melaka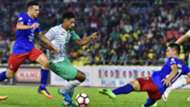 Johor Darul Ta'zim produced an impressive performance at the Hang Jebat Stadium to claim an important 4-1 win over Melaka United in the Malaysia Cup quarterfinal match played on Friday night.
Mohammed Ghaddar scored twice in the first half before Ignacio 'Natxo' Insa and Safiq Rahim added to the scoreline in the second half, for a comprehensive win for the the Southern Tigers.
Ulisses Morais was finally able to field his best XI, at least in the attacking sense. Safiq Rahim, Insa, Gonzalo Cabrera, Ghaddar and Gabriel Guerra all played their part in getting JDT a healthy first lead heading into the return leg.
"We were good in the first 15 minutes but after that Melaka did well to stop us. They are now a better team with new players and new coach. We want to first win and if possible, score more goals. Our players did well and they delivered the two things we asked of them," said Morais after the match.
JDT will now turn their attention back to the Super League with the match against Kelantan scheduled to be played on Wednesday. The league trophy will also be presented after the match, which will be followed by a night of celebrations with the fans.
However while Morais wants his player to enjoy their league success, he is also wary that the cup tie isn't over yet. Despite the three goals advantage going into the return leg at Tan Sri Haji Hassan Yunos Stadium, the Portuguese will not be taking any chances with the place in the semi-final up for grabs.
"We know we have a comfortable advantage but we will respect Melaka in the return leg because it was not easy today, especially in the first half," added Morais.
The second leg of the match will be played on Sunday 24 September.