Sadio Mané
It's not all about Mane! Wijnaldum keen to stress Liverpool's team ethic as Sadio steals the headlines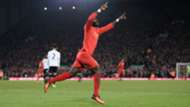 Gini Wijnaldum echoed manager Jurgen Klopp's assessment that while Sadio Mane proved decisive in Liverpool's 2-0 victory over Tottenham, the contribution of the collective should not go unnoticed. 
The Senegal international constantly ruffled Spurs' rearguard at Anfield on Saturday, scoring both goals to take his league tally for the season to 11.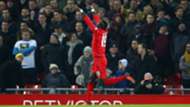 And while the Reds boss saluted his "wonderful performance," he made a point of also highlighting the efforts of the rest of the team during the authoritative display. 
When asked about Mane's influence, Wijnaldum applauded his teammate's ability to make the difference, but admitted it is unfair for Liverpool's results to be put solely down to the 24-year-old. 
"He's really important," said the Dutch midfielder, who played a sublime pass for the opener on Saturday. "But it's too much Sadio Mane now because he scored two goals, and we had poor results without him.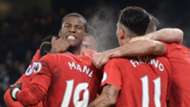 "And before he left [for the Africa Cup of Nations] we had good results, only against Sunderland we didn't, so it's 'Sadio Mane, Sadio Mane.'
"Last week we lost [2-0 at Hull City] with Sadio Mane. So I don't think it's fair to the other players to say because of Sadio Mane we win or didn't win.
"Of course, he's a really good player. He helps us with his speed and the kind of quality he has to score goals, but it's more of a team contribution than just 'Sadio Mane'. 
"That's what I think. It's normal though: if you have poor results without Sadio, everyone will say 'Sadio Mane.' If it's another player, in the time that Phil was injured if we had poor results, everyone would have said 'Phil Coutinho.'
"That's how it is. You have to get used to it, but I don't think it's fair."