Indian Super League
ISL 2018-19: Cesar Ferrando - I have very good Indian players in my team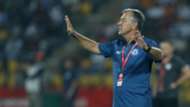 Cesar Ferrando saw his Jamshedpur FC side blow a two-goal lead against Kerala Blasters on Sunday but the Spaniards had no complaints after they emphatically dispatched FC Goa in an Indian Super League (ISL) clash on Thursday.
"We played very well throughout the match. We played the same against Kerala but we couldn't win. Today we corrected our mistakes and delivered. Very happy with the team and all players. Very happy with their commitment and effort," a visibly delighted Ferrando stated after the win.
The Spanish coach had some special words of praise for Michael Soosairaj who bagged a brace as well as young Gaurav Mukhi who tormented the Goa defence all night before being taken off.
"I think I have very good Indian players in my team. I am happy with their effort. Soosairaj and Mukhi from the first day are improving. I had chosen the best players for this match. Very happy with their work. Soosairaj not only scored but also created chances and defended well. Gaurav(Mukhi) is a young player. He did well but he has to take it step by step. He is one for the future," Ferrando said.
The win broke a frustrating run of four consecutive draws for the Jamshedpur outfit following their 2-0 win over Mumbai City in the opening game. On Thursday, the hosts were on the front foot throughout the 90 minutes as they thoroughly outplayed a gifted Goan side.
Ferrando reiterated his long-term vision for the team following their stylish win.
"From the first day, we wanted to establish a brand of football for Jamshedpur. It will take time. But, we have to make sure that in one or two years we establish our style," he declared.
Though his defence failed to earn a clean sheet in the contest, the Spaniard was delighted with their display against a Goa side who had banged in 14 goals in four matches prior to Thursday's clash.
"Goa is a good team. They try to control the game always. We were better than them tonight so didn't allow them to control the match. Defence was very good. They played well. I would have preferred a clean sheet. But overall, they did a great job," he said.