Pune City v Chennaiyin
ISL 2018-19: FC Pune City's Pradhyum Reddy - Indian strikers need to have flexibility in their game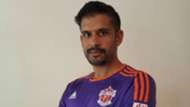 Two of the teams that made it to the play-offs last season find themselves at the bottom of the lot in the 2018-19 Indian Super League (ISL).
Chennaiyin FC and FC Pune City have failed to win a single game and Pune outfit's interim gaffer Pradhyum Reddy is confident of finding a way out.
"Nobody would have thought that two of last year's semifinalists would be sitting in this position when we are coming close to about one third of the season. We find ourselves in a position that we don't want to be in and it's our responsibility to dig ourselves out of the hole we're in. It's a must win for us," he said ahead of facing the defending champions.
Post Miguel Angel Portugal's stint at the club, Pune City are coming back from decent performances against FC Goa and Kerala Blasters but don't have points to show for it.
"I think there's been a changes in the performance of our team lately. The attitude is better; we are training harder. The players are putting in more effort and that's visible in the games. We are now better defensively and we've begun to score goals. There were games in between where we couldn't score any. But there's still a long way to go," said Reddy.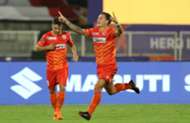 The former Bengaluru FC assistant has also backed Adil Khan to improve as the season goes by while hinting that Martin Diaz may have to adapt to a new role for the Chennaiyin FC clash given that Marko Stankovic is expected to miss a game or two.
"Adil Khan was a key player for us last season. I think he has not been given a clear role as seen from the past few matches and the pre-season. We need to see how we should fit him into our system. I think he played well in the last game, in the second half against Goa. He should build on this and provide us with both defensive support and the goals upfront like he did last season," Reddy continued.
"Martin Diaz is a versatile player. He is a centre-back but can play as a defensive midfielder. We realised that we needed our foreign players in attacking positions. Jonathan Vila showed he can do better as a central midfielder rather than a deep-lying midfielder. So we will be seeing a lot more of Vila higher up the pitch so that our strikers can get better service."
Pradhyum Reddy has also brought Robin Singh to the fore ever since he has taken over charge from Portugal as the Indian origin Scot explained, "I've worked with Robin Singh in the past. At Bengaluru FC we converted Sunil Chhetri into a wide player because we felt that his attributes suited that position better and he has done well there.
"In the Indian Super League, foreigners usually occupy the number nine role and Indian strikers need to have flexibility in their game to make space for that. It's a tough role for Robin but he needs to adapt to it and I think he's doing well."