Indian Super League
ISL 2018-19: Time for John Gregory and Chennaiyin to look towards the untested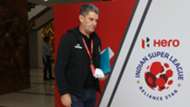 Chennaiyin FC's defence of their Indian Super League (ISL) title has gone anything but according to plan with the defending champions still searching for a win six matches into their latest campaign.
Saturday's 0-1 defeat at home to Mumbai City was the fifth loss for John Gregory and his men in what is turning out to be a disastrous campaign for the defending champions.
The Marina Machans have retained most of their title-winning squad from last season with Henrique Sereno's departure being perhaps their biggest loss. That industrious midfielder Dhanpal Ganesh is out with a long-term injury has not helped matters for Gregory either.
However, even after accounting for these two losses, Chennaiyin should be doing much better with the personnel they still have at their disposal.
Gregory has tried to go with the same set of core players that won him the title last season. Jeje Lalpekhlua, Raphael Augusto, Mailson Alves, Inigo Calderon, Karanjit Singh, and Francis Fernandes have continued to feature prominently.
That is not to say that the Englishman has given them an extended run with blind faith this season. With the side struggling to get results, Gregory has chopped and changed whenever possible with out-of-form players seeing their minutes on the pitch greatly reduced.
An off-colour Jeje has been given only two starts and has made four appearances from the substitute bench. Gregory Nelson, who played a starring role in the run to the title, has suffered the same fate as Jeje along with Brazilian defender Mailson who has been shaky at best this season.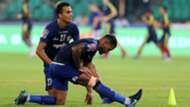 The Englishman would have hoped that young midfielders like Anirudh Thapa and Germanpreet Singh will step up in the absence of Ganesh but that has not been the case with both youngsters flattering to deceive.
Up top, Carlos Salom has been given plenty of minutes amidst Jeje's struggles but the Palestine forward has been found severely lacking in the finishing department. In the midfield, Spaniard Andre Orlandi has failed to create the desired impact.
Despite some key men finding their game time reduced, Gregory has resisted from making wholesome changes to his squad even in these dark times. Goalkeeper Karanjit Singh has continued to retain his place despite being a pale shadow of the player who impressed so greatly between the sticks last season.
Calderon, Eli Sabia and Jerry Lalrinzuala have been a constant in the Chennaiyin's defence which has failed to cover itself in glory.
"It is always easy to change personnel, but I don't think that's the answer," Gregory had stated after the 0-1 defeat to Mumbai.
However, the Englishman has done as much as he can without making wholesome changes but nothing has failed to stick so far for the club.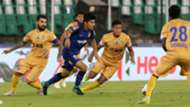 It, therefore, may be time for Gregory to throw caution to the wind and look at the untested players so far in the squad. When all else has failed and no answers have been found within, it is time for them to think outside the box.
The current recipe has become stale and some fresh energy could be the desperate need of the hour for Chennaiyin. In his own words, Gregory has admitted that the side's dreadful run has shattered the confidence of some of his men.
"When you start the season, firstly you want your first win. It doesn't always come in the first game. It gets everybody going, boosting everyone's confidence. We've been thinking this would be our game since the first game, and it's dragged on now," he had stated recently.
"Few players have been playing with a lack of confidence. Some are nervous playing here at home and are not playing as good as they can do, but the effort is always there, no matter what happens."
The effort might very well be there from Gregory's trusted set of players but effort alone has failed to bring in the desired results with things continuing to go from bad to worse.
In that sense, Tuesday's clash against an equally woeful Pune City might be the perfect time for Gregory to unleash some of the unfamiliar names in his squad in a bid to freshen things up.