Indian Super League
ISL 2018-19: Delhi Dynamos' Josep Gombau - Winless run affecting confidence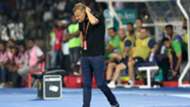 Delhi Dynamos head coach Josep Gombau conceded that his team's winless run has had an impact on the confidence in the squad.
The Lions succumbed to yet another loss on Monday in the Indian Super League (ISL), this time at the hands of Mumbai City. Although the home team took the lead through an own goal as early as the third minute, Mumbai came out victors at the end of the ninety with a 4-2 scoreline. 
Gombau said, "Difficult game for us, especially the result. In the first half, we were very good. We scored a goal and created chances to score more. In the second half, we conceded a penalty in the very first minute and then an own goal. We lost a lot of balls during the transitions in the second half and that was the reason why we conceded so many chances.
"We lost the ball too many times and Mumbai upped the tempo and took advantage. Once the team fell behind, the lack of confidence from nine winless games started to hurt them and it showed."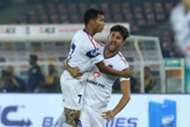 He further stressed, "Our objective has always remained to work very hard for every single game and try to win them. There is no change in that objectives."
Gombau opted to go in with a false nine against the Islanders. Andrija Kaludjerovic was brought on in the second half when the team was trailing. 
"It is not because of a lack of confidence in my strikers. I started with a false nine because that is what we decided would suit us best for this game. And it worked too with the number of chances we were creating. We were on top in the first half and could have scored more goals. So the system definitely was working."
The gaffer also refused to blame individuals for the defeat. "We cannot blame anyone for the defeat because every player gave it his best tonight. We conceded a penalty and an own goal and after that, it becomes difficult to come back because the boys' confidence is already down after the last nine games without a win.
"The focus is on the coming two games first of all. Once those fixtures are over, we have a big break and of course, we would look to utilize it to the maximum to prepare ourselves in the best way for the final six games of our campaign."